Hotel Monteleone's 130th Anniversary
Standing Tall on Royal St. since 1886
Join us in celebrating our 130th birthday
Celebrating All Year Long!
130 Wonderful Years
We Hope You'll Join Us
Since we're a French Quarter hotel in New Orleans, you can bet we never need an excuse to have a good time. But we're especially excited to party all 2016 long as we celebrate our 130th anniversary.
Throughout the year, we're hosting special events and trip giveaways, amazing happy hour specials, social media contests, and so much more. We're also launching our new literary book — stay tuned for more details.
It's hard to believe we've been around for 130 years now, and we truly could not have done it without our wonderful guests, who make each and every day a delight.
Hope to see you soon!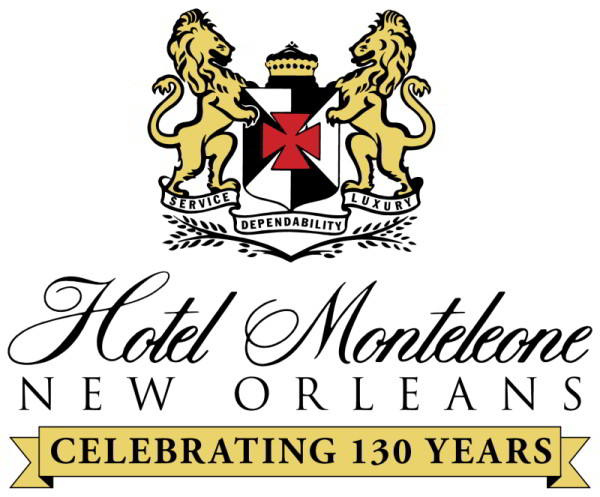 Our Historic French Quarter Hotel
Before he became founder of this famous New Orleans hotel, Antonio Monteleone was an industrious nobleman who operated a very successful shoe factory in Sicily.
Antonio had heard great things about America. The call of adventure motivated him to pack the tools of his trade and head for the "land of opportunity." Antonio arrived in New Orleans circa 1880 and opened a cobbler shop on Royal Street, the busy thoroughfare of commerce and banking in America's most European city. At the time Antonio emigrated, Royal Street was indeed the grand street of the "Vieux Carre," as the French Colonials sometimes called the new town. Hotel Monteleone has history of all sorts behind it.
In 1886, Mr. Monteleone bought a 64-room French Quarter hotel on the corner of Royal and Iberville streets. The setting was ripe for Antonio to spread his entrepreneurial wings when the nearby Commercial Hotel became available for purchase. That was the beginning of an amazing historical landmark New Orleans hotel.
Hotel Monteleone is one of the last great family-owned-and-operated hotels in New Orleans. Since 1886, five generations of Monteleones have dedicated themselves to making their hotel what it was — and still is — a sparkling jewel in the heart of the French Quarter.
EXPANSIONS OVER TIME
There have been five major additions to Hotel Monteleone. The first was in 1903, when 30 rooms were added to the hotel. The next addition occurred in 1908, during a time of financial panic in the United States, when 300 more rooms were added. In 1908, the name of the hotel was changed from the Commercial Hotel to Hotel Monteleone.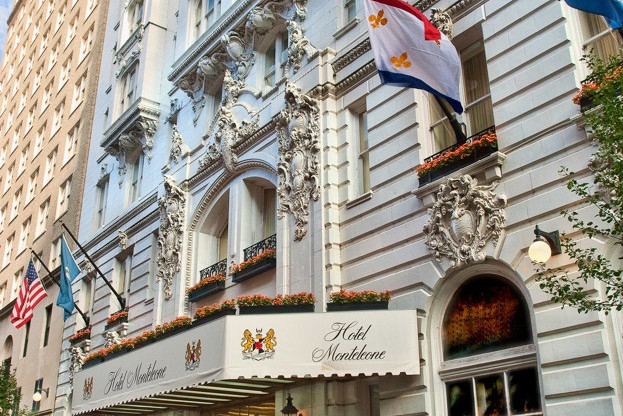 In 1913, Antonio Monteleone passed away, and his son Frank succeeded him. Frank added 200 more rooms to the hotel in 1928, a year before another horrible crash in the U.S. economy.
Hotel Monteleone was one of America's few family-owned hotels to weather the depression and remained unchanged until 1954. That year, the fourth addition to this New Orleans hotel required the razing of the original building.
The foundation was laid for a completely new building that would include guest facilities, ballrooms, dining rooms, and cocktail lounges. Bill Monteleone took over after his father passed in 1958.
Under Bill's direction, additional floors, guestrooms, and a Sky Terrace with swimming pools and cocktail lounges were added to the New Orleans hotel landmark in 1964.
LITERARY HISTORY
Hotel Monteleone, a historic New Orleans hotel, has long been a favorite haunt of distinguished Southern authors. Many of them immortalized the Grand Dame of the French Quarter in their works. Ernest Hemingway, Tennessee Williams, and William Faulkner always made 214 Royal Street their address while in the Crescent City. While at the Carousel Bar, Truman Capote used to boast that he was born in the Monteleone. (He wasn't – though his mother lived at the historic hotel during her pregnancy, she safely made it to the hospital in time for Truman's debut.)
The list doesn't stop there; Anne Rice, Stephen Ambrose, and John Grisham also joined the ranks of literary guests over the years. In June of 1999, due to Hotel Monteleone's distinction among the literary elite, the hotel was designated an official literary landmark by the Friends of the Library Association. (The Plaza and Algonquin in New York are the only other hotels in the United States that share this honor.) Whether truth or fiction, the Hotel Monteleone's history is rich in stories.
Learn more about our Literary Suites.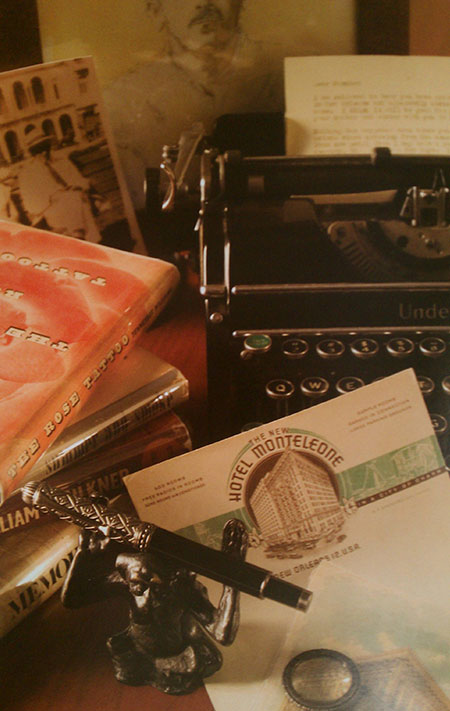 HAUNTED HISTORY
Generations of hotel guests and staff have regularly experienced haunted events that would cause even the staunchest skeptic to take pause. This haunted hotel in New Orleans had a restaurant door that opens almost every evening and then closes again, even though it is locked. An elevator that stops on the wrong floor, leading a curious couple down a hallway that grows chilly and reveals the ghostly images of children playing.
Hotel Monteleone is known for being one of the premier haunted hotels in New Orleans. In March 2003, the International Society of Paranormal Research spent several days at Hotel Monteleone. While at the hotel, the team made contact with more than a dozen earthbound entities. Among them were several former employees, a man named William "Red" Wildemere, who died inside the hotel of natural causes. Another spirit is that of a friendly toddler named Maurice Begere. The boy died in the hotel, and his distraught parents returned frequently in hopes he might visit them. Maurice eventually appeared to his mother and comforted her, and to this day, guests report seeing him near the room where he died.