While we are famous for many things at the Hotel Monteleone – rich history, breathtaking views, friendly staff – one of our most prized luxuries is the Carousel Bar & Lounge. The classic New Orleans hotel bar is the city's only revolving bar. The 25-seat, circus themed, Merry-Go-Round bar overlooks Royal Street in the heart of the French Quarter. One full revolution takes fifteen minutes, but don't be surprised if you find yourself maintaining your coveted seat on the ride for hours!
While the Carousel Bar & Lounge is famous for its unique set-up, it is also well-known for the impressive bartenders and unparalleled cocktails. The Carousel Bar serves up delicious cocktails ranging from the signature Vieux Carre to a refreshing Pimm's Cup. We wanted to share one of our favorite cocktail recipes from the Carousel Bar, the Criollo Cocktail, named after our renowned Cajun & Creole inspired restaurant located inside the Monteleone.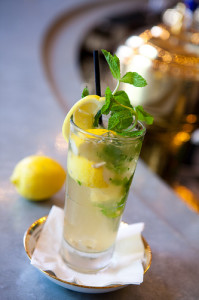 Criollo Cocktail Recipe
1 1/4 oz. Old New Orleans Cajun Spice Rum
3 wedges Fresh Lemon
1/4 oz. Agave Nectar
3-4 Fresh Mint Leaves
4 oz. Club Soda
Place Lemon Wedges, Agave Nectar, and Mint Leaves in a 14 oz. Collins style glass. Muddle to release the essence of the mint and to release the juice from the lemon. Be careful not to muddle too hard as the mint and lemon will become bitter.
Fill the glass with ice, top with Old New Orleans Cajun Spice Rum and Club Soda, and garnish with a Lemon Wedge and a Mint Sprig.
This recipe has been adapted from the Bar Florida Cocktail book from the Florida Hotel in Havana, Cuba.
The Criollo Cocktail is refreshing no matter the time of year, but works well with the New Orleans heat we so often find ourselves in.  So stop in and try one at our very own Carousel Bar & Lounge or attempt the recipe at home!