Hotel Monteleone is one of only three U.S. hotels to receive the prestigious Literary Landmark designation by the Friends of Libraries, USA, so you might say that the history of literature is an important pillar upon which our hotel finds foundation.
So many important literary figures and famous authors have claimed Hotel Monteleone as a home away from home, including, but not limited to, William Faulkner, Richard Ford, Eudora Welty, Rebecca Wells, Sherwood Anderson, and Stephen Ambrose. Just as our hotel served as inspiration to them, these authors have served as inspiration to us. Therefore, take a peek at a few of our Literary Suites at Hotel Monteleone, our way of paying homage to these wonderful literary figures.
Truman Capote Literary Suite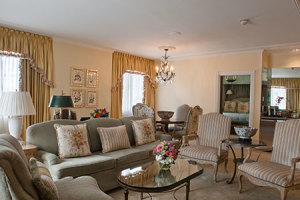 Capote was fond of telling the press that he was born inside the Hotel Monteleone. In fact, the Hotel assisted his mother with transportation to Touro Hospital, where he was actually born. Overlooking the French Quarter, this beautifully appointed suite reflects Capote's personality. The one-bedroom suite offers a king-sized bed and a comfortable parlor.
Ernest Hemingway Literary Suite 
Hemingway stayed at the Monteleone and mentioned the Carousel Bar in his short story, The Night Before Battle. So, it is fitting that the Hemingway Penthouse be located in the section of the hotel that once housed the Union Troops. This unique suite with dual balconies offers both City and French Quarter views and is adjacent to our rooftop pool and fitness center. The penthouse main bedroom has a king bed, while the optional guest room features two double beds.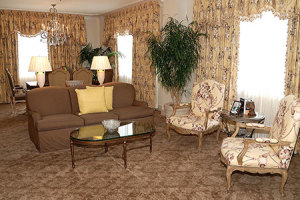 Tennessee Williams Literary Suite
Tennessee Williams featured the Hotel Monteleone is his play, The Rose Tattoo. Until Williams purchased a fine mansion in the French Quarter, he often stayed at Hotel Monteleone. Available in either a one- or two-bedroom configuration, the suite is one of our largest and offers a magnificent view of the French Quarter. Both bedrooms offer a king-sized bed, and a sofa bed in the parlor provides additional sleeping capacity.
Get treated like literary royalty and book your stay at the Hotel Monteleone now.