We are proud to announce Hotel Monteleone's upcoming involvement with the Susan G. Komen Race for the Cure! For this year's race, Hotel Monteleone and sister hotel Bienville House will be sponsoring a team. The team will be made up of our employees, eager to show our support for the ongoing battle against breast cancer. The Susan G. Komen Race in New Orleans is taking place October 26th, at City Park.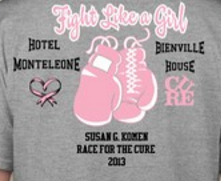 About the Susan G. Komen Race for the Cure
Before Susan G. Komen's death, she was hopeful that her sister could do everything possible to help fight breast cancer, not only for her, but for women everywhere. Her sister, Nancy G. Brinker, kept that promise, and launched a global movement to end breast cancer. That movement became Susan G. Komen for the Cure. The movement so far has raised almost $2 billion to help end breast cancer in the U.S. through ground-breaking research, community health outreach, advocacy, and programs in more than 50 countries.
In 2008, the Susan G. Komen race celebrated its 25th anniversary. It is the largest series of 5K runs/fitness walks in the world, with well over one million participants in 2005. The races raise significant funds and awareness for the fight against breast cancer. There are more than 100 races around the United States and foreign countries. New Orleans is one of those cities, and Hotel Monteleone and Bienville House are happy to join the cause!
Join Hotel Monteleone on the Susan G. Komen Race for the Cure
You don't have to be a star athlete to join the race! Be a part of the greatest charity event ever created. The races going on year round with many participating cities… there's bound to be a Susan G. Komen Race for the Cure location near you. If you are interested in going above and beyond, you can also join the Susan G. Komen 3-Day for the Cure, a 60-mile walk in three days to help raise millions of dollars for breast cancer research. Learn more about the Susan G. Komen 3-Day For the Cure, and join the fight against breast cancer today.