Enjoy a delicious New Orleans Thanksgiving Dinner
New Orleans is a city that embraces traditions, family and the art of a good celebration!  Celebrating a classic New Orleans Thanksgiving is a natural fit. Whether you're looking for a traditional Thanksgiving dinner, or a more vivacious celebration, you can find it all in this historic city.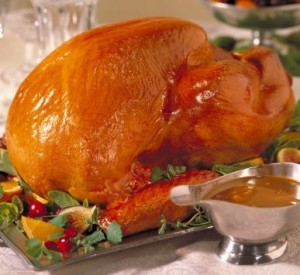 Without even stepping out of our doors, you can dine at Criollo Restaurant for breakfast, lunch or dinner. Not only will we feature some of our signature Criollo dishes, but we will also serve a beautiful selection of traditional Thanksgiving favorites. Browse our Thanksgiving Menu and make your Thanksgiving dinner reservations at Criollo today!
New Orleans Thanksgiving Weekend Activities
If you're looking for a little adventure this holiday, our French Quarter hotel location makes us one of the best hotels in New Orleans! Perfectly situated at the foot of Royal Street, Hotel Monteleone provides the best point of departure for all of the attractions New Orleans has to offer for Thanksgiving. You can do some window shopping along Royal Street, take a walking tour of the historic French Quarter architecture, explore the beautiful Jackson Square, watch the Bayou Classic Thanksgiving Day parade and more! Have a sports fan in the family? Visitors need only step outside of our doors to catch a weekend full of fun sporting events surrounding annual match up between the Southern Jaguars and the Grambling Tigers at the Bayou Classic.
Book Your New Orleans Thanksgiving Dinner Reservation Today
No matter how you would like to celebrate this Thanksgiving, Hotel Monteleone is the premiere New Orleans hotel for your Thanksgiving Getaway! We look forward to hosting you and your family this holiday season. Make your New Orleans Thanksgiving Dinner Reservations at Criollo Restaurant today or call us to reserve your table at (504)-681-4444.