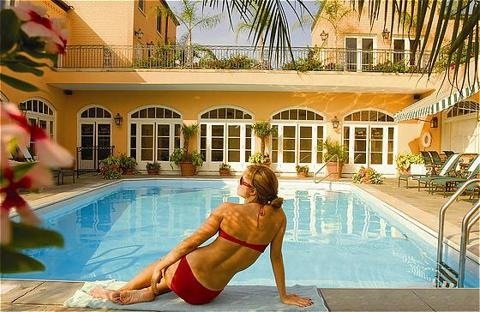 Summer is here and we all know what that means – heat. And what better way to escape the heat than with a nice, refreshing dip in a rooftop pool at a luxury New Orleans hotel?
Luckily, Hotel Monteleone has one of the best rooftop pools in New Orleans! With incredible views of the French Quarter and the Mississippi River surrounding our one-of-a-kind rooftop pool, it may be one of the best ways to spend a hot day at our New Orleans hotel.
Acqua Bella Poolside Bar
Hungry or thirsty? Grab lunch at our poolside bar, Acqua Bella. Acqua Bella offers a range of refreshing beverages and light bites.
Drinks Include:
• Acqua Bella Raspberry Lemonade – a refreshing blend of Raspberry Liquor, Limoncello and Sparkling Water
• Signora M's Belling – a delicious mix of White Peach Puree and Moscato Sparkling Wine
• Frozen Tiramisu – A delectable drink version of the classic Italian dessert with Van Gogh Dutch Caramel Vodka blended with frozen Cappuccino
Small Bites Include:
• New Orleans Po Boys – shrimp, oyster or catfish!
• Monte Burger – 8 oz. Angus Sirloin with sautéed mushrooms or onions, Swiss or cheddar cheese on a toasted Ciabatta bun
• Caesar Salad or Cobb Salad
These are just a few of the delicious treats available! Not all rooftop pools provide guests with the ease and convenience of a pool bar, so make sure to take advantage of it.
Swim Late at Our New Orleans Hotel Pool
Our New Orleans hotel's rooftop pool is open year-round from 7:00am – 10:00pm, with the poolside bar open from 11:00am – 7:00pm. Want to take a late-night dip? Our pool also happens to heated. Many of our guests claim the rooftop pool is their favorite amenity available at Hotel Monteleone, so be sure not to miss it.
Looking for other cool ways to spend a hot day? Order a drink in our indoor and, more importantly, air-conditioned Carousel Bar & Lounge. Or put some quality time towards relaxation in our hotel spa: Spa Aria. With any of these great options, you can't go wrong when you stay at our New Orleans hotel!