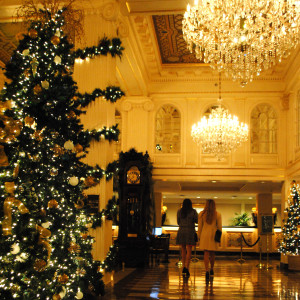 While many might not associate wintertime Christmas as the premiere time of year to visit the city of New Orleans, the Big Easy pulls out all the stops to make Christmas in New Orleans a magical winter wonderland. There's so much planned for holiday season, we'll be sharing a few of our favorite holiday activities for the next few weeks.
Hotel Monteleone joins in the exceptional holiday cheer that fills this already cheerful city. Celebrate the holidays with the Hotel Monteleone in New Orleans, a city that knows how to have a good time. Book with our Papa Noel rates and join Hotel Monteleone for the holidays.
A Few Favorites from Christmas in New Orleans
Caroling in Jackson Square
December 19th, Jackson Square — This 58-year old New Orleans tradition is a can't miss. Watch as locals and visitors fill Jackson Square with candle-lit faces and the sweet sounds of the season. With the St. Louis Cathedral as your backdrop, this is a holiday Kodak moment you won't ever forget.
Free and open to the public.
December 1-31, New Orleans City Park — Can't get enough of beautiful and glimmering holiday lighting? Then this Christmas in New Orleans event is perfect for you. Tour the City Park grounds by foot, car, horse-drawn carriage or even by train, and discover the amazing light show exhibits that only come around this time of year!
Tickets: $8/person
December 7th, Hotel Monteleone — Bringing joy to children during the holidays is perhaps the best part of the season. Join Monte the Lion, Santa, Rudolph, Frosty the Snowman and Santa's Elves for this magical children's holiday party. Take a photo with Santa and leave with a stuffed Monte animal to forever remind them of this special Christmas in New Orleans event.
Adult tickets: $58.00/person; children's tickets: $43.00/child
Stay tuned for more Hotel Monteleone Christmas in New Orleans recommendations!