Whitney Zoo-To-Do 2013
Friday, May 3, 2013 7:00 PM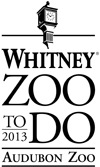 Whitney Zoo-To-Do is the fantastic party everyone wants to attend on the gorgeous grounds of Audubon Zoo, a celebration that always has the town buzzing for weeks.  Elegant and unique, Audubon Zoo's Whitney Zoo-To-Do is legendary around New Orleans and across the country.
Zoo-To-Do 2013 features live entertainment from BJÖRN Again!, Ingrid Lucia, and other local New Orleans music. Zoo-To-Do also hosts a silent auction with many great prizes, as well as a Lexus vehicle raffle.  The party also features premium cocktails and delicious New Orleans cuisine.
The Whitney Zoo-To-Do Gala will be held on the Audubon Zoo Grounds from 8:00pm – 12:00 am.
The Whitney Zoo-To-Do Sponsor and Patron Party will be held at the Jerome S. Glazer Audubon Tea Room Garden and Patron Lounge from 7:00 pm – 12:00 am.
Buy Whitney Zoo-To-Do Gala 2013 Tickets
Category:
Tags: audubon institute, audubon zoo, new orleans festivals, new orleans food, new orleans live music, new orleans music, whitney zoo-to-do, whitney zoo-to-do 2013, zoo-to-do 2013, zoo-to-doo
You might also like