French Quarter Festival 2014
Sunday, April 13, 2014 12:00 AM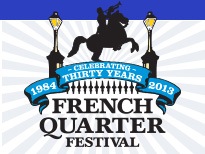 The French Quarter Festival presented by Chevron is the largest free music festival in the South.  French Quarter Fest 2014 will feature over 800 local musicians, more than 65 of the finest New Orleans restaurants, free special events, and family fun with two exciting kids areas.
Book your French Quarter Fest hotel stay at Hotel Monteleone.  Our hotel in the French Quarter is the perfect starting point for your French Quarter Fest weekend vacation in New Orleans.
French Quarter Festival 2014 Dates
Thursday, April 10, 2013
Friday, April 11, 2013
Saturday, April 12, 2013
Sunday, April 13, 2013
Visit the French Quarter Festival 2014 website for this year's lineup.
Map Unavailable
Category:
Tags:
You might also like