Go 4th On The River 2013
Thursday, July 4, 2013 12:00 AM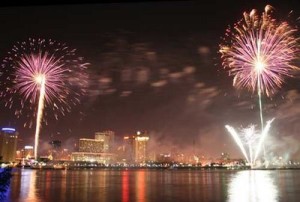 The annual Go Fourth on the River extravaganza is an exciting one-of-a-kind spectacle, featuring a "Dueling Barges" fireworks show to the tune of patriotic music!
The event also features local brass bands and musicians performing all along the Mississippi River in the French Quarter.
This event is free and open to the public, with the fireworks show starting at 9:00 pm, so don't be sure to miss it!
Category:
Tags: go 4th on the river, independence day celebrations, independence day events, july 4th celebrations, july 4th events, new orleans festivals, new orleans live music, new orleans music
You might also like