Louisiana Seafood Festival
Saturday, October 12, 2013 12:00 AM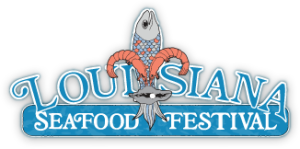 The Louisiana Seafood Festival is held every October in Woldenberg Park in the New Orleans French Quarter.
The free festival features live entertainment, local arts and crafts, and world-famous cuisine from top New Orleans restaurants, including Acme Oyster House, Arnaud's, Drago's, Galatoire's, Mr. B's Bistro, Red Fish Grill, Remoulade, Saltwater Grill, and more.
Louisiana seafood is what's on the menu at this festival — Shrimp, crab, oysters, crawfish and more are featured in a multitude of creative dishes from top New Orleans chefs.
The festival also features a broad line-up of local New Orleans live music, as well as artists' booths featuring some of the New Orleans area's most talented artists in jewelry, woodworks, textiles and other arts.
Event Dates:
Friday, October 11, 2013
Saturday, October 12, 2013
Sunday, October 13, 2013
Category:
Tags: family-friendly, louisiana seafood festival, louisiana seafood festival new orleans, new orleans festivals, new orleans food, new orleans live music, new orleans music
You might also like