Mid-City Bayou Boogaloo 2013
Sunday, May 19, 2013 12:00 AM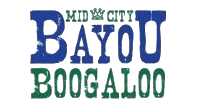 The 7th Annual Mid-City Bayou Boogaloo Festival will be held Friday May 17, 2013 through Sunday May 19, 2013, along the banks of historic Bayou St. John in New Orleans.
Last year's Bayou Boogaloo had over 25,000 locals and visitors in attendance, reveling in music from three stages, delicious New Orleans food, and unique local culture from the Boogaloo Art Market.
The Bayou Boogaloo Festival is a family-friendly event with a kid's stage, games and activities for children.
The music line-up includes New Orleans favorites Papa Grows Funk, Mia Borders, Meschiya Lake & The Little Big Horns, Treme Brass Band, Russell Batiste & Uptown Indians featuring Jason Neville, and more. View the Bayou Boogaloo 2013 music line-up, and download a Bayou Boogaloo festival map on their official site.
Event dates:
Friday, May 17, 2013
Saturday, May 18, 2013
Sunday, May 19, 2013
Map Unavailable
Category:
Tags: bayou boogaloo, bayou boogaloo new orleans, mid-city bayou boogaloo, new orleans fest, new orleans festivals, new orleans food, new orleans jazz, new orleans live jazz, new orleans live music, new orleans music
You might also like