Million Dollar Quartet
Tuesday, April 16, 2013 8:00 PM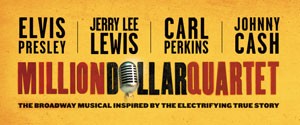 Million Dollar Quartet is the smash hit Broadway musical, inspired by the true story of the famed recording session that brought together rock 'n' roll icons Elvis Presley, Johnny Cash, Jerry Lee Lewis and Carl Perkins for the first and only time.
On December 4, 1956, these four young musicians were gathered together by Sam Phillips, the "Father of Rock 'n' Roll" at Sun Records in Memphis for what would be one of the greatest jam sessions of all time. Million Dollar Quartet brings that legendary night to life with an irresistible tale of broken promises, secrets, betrayal and celebrations featuring timeless hits including "Blue Suede Shoes," "Fever," "That's All Right," "Sixteen Tons," "Great Balls of Fire," "I Walk the Line," "Whole Lotta Shakin' Goin' On," "Who Do You Love?," "Matchbox," "Folsom Prison Blues," "Hound Dog" and more.
This thrilling musical brings you inside the recording studio with four major talents who came together as a red-hot rock 'n' roll band for one unforgettable night. Don't miss your chance to be a fly on the wall of fame at Million Dollar Quartet!
Presented by Broadway in New Orleans
Tuesday, April 16, 2013 at 8:00pm
Wednesday, April 17, 2013 at 8:00pm
Thursday, April 18, 2013 at 8:00pm
Friday, April 19, 2013 at 8:00pm
Saturday, April 20, 2013 at 2:00pm & 8:00pm
Sunday, April 21, 2013 at 2:00pm & 7:30pm
Purchase Tickets
Million Dollar Quartet Tickets at the Mahalia Jackson Theater Box Office
Million Dollar Quartet Tickets at Ticketmaster.com
Hotel Monteleone Theater Dinner Packages
Before you head out for your night of New Orleans theater, enjoy a pre-theater dinner package with the Hotel Monteleone.
A major credit card is required to confirm your reservation.  A Hotel Monteleone representative will contact you within two business days to obtain your credit card information.
Hotel Monteleone's Pre-Theater Dinner Menu
Category:
Tags: broadway in new orleans, broadway musicals, mahalia jackson theater, new orleans music, new orleans theater
You might also like