New Orleans Earth Day Festival 2013
Sunday, April 21, 2013 9:00 AM
The 2013 New Orleans Earth Day Festival is on Sunday, April 21 9am-7:30 pm in New Orleans' historic Bayou St. John.
The 2013 Festival will feature Green Scavenger Hunts, two Showcase Stages with local artists and green initiatives, as well as an Art Installation with the theme "Rethinking Petrochemicals."  This year's art installation is a 10ft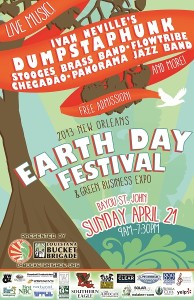 oil derrick made out of Mardi Gras beads, highlighting that our Mardi Gras festivities rely on plastic beads made from petrochemicals.
The Louisiana Bucket Brigade organized the first New Orleans Earth Day Festival in 2009.  It's the only event in the area focused exclusively on engaging the local community, environmental organizations and businesses around environmental sustainability. And, in the long term we believe our event has the potential to expand beyond New Orleans and become established as the premier sustainability event along the Gulf Coast.
Learn more about the festival on the 2013 New Orleans Earth Day Festival official site.
Map Unavailable
Category:
Tags: family-friendly, new orleans festivals, new orleans food, new orleans live music, new orleans music
You might also like