New Orleans Greek Festival 2013
Friday, May 24, 2013 12:00 AM
The New Orleans Greek Festival is held May 24-26.  The festival, celebrating a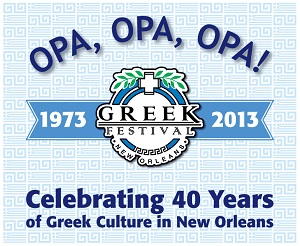 ll things pan-Hellenic, will be celebrating its 40th anniversary.  The 40th anniversary festival poster was designed by famed local artist James Michalopoulos.
The Greek Festival features music and culinary specialties whose roots go back to the ancient Greece.  Enjoy authentic Greek food, Greek music, and an Athenian playground for children.
Event Dates:
Friday, May 24, 2013
Saturday, May 25, 2013
Sunday, May 26, 2013
For more information, visit the New Orleans Greek Festival 2013 official website.
Category:
Tags: family-friendly, greek fest, greek festival, new orleans festivals, new orleans greek fest, new orleans greek festival
You might also like