Paul Longstreth (piano solo)
Thursday, March 21, 2013 5:00 PM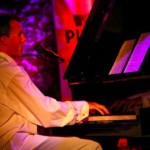 Paul Longstreth's musical background began in church, where his father was a Methodist minister and orchestral director and his mother was an active participant in Church music, education, and ministry programs.  While he received piano lessons from their choir director and was encouraged to sing in the choirs at church and at school, it was not until he got to New Orleans in 1989 that the idea of making music a career became a possibility.
After hearing Mr. Ellis Marsalis in concert at Tulane University, he promptly dropped out.  To his parents' chagrin, he left a hefty scholarship from a reputable university to pursue a career in piano performance! Unsuccessfully, he auditioned twice for the Jazz Studies program at the University of New Orleans. However, being stubborn and persistent, and completely ignorant of how little he actually understood, he eventually gained admittance.
After four years studying with Mr. Marsalis, he graduated and began searching for work. Proving again that he is the luckiest kid on the planet, he was able to build a reputation as a solid sideman and accompanist in the mecca of traditional jazz, New Orleans.  He is still amazed to list performances with Lenny Kravitz, Rufus Reid, Nicholas Payton, The Leroy Jones Quintet, Charles Neville, Bob French and the Original Tuxedo Jazz Band, Kermit Ruffins and the Barbecue Swingers, Trombone Shorty and Orleans Avenue, Irvin Mayfield, Charmaine Neville, The Harry Connick Orchestra, Sista Teedy's Bootleg Operation, Jeremy Davenport, Lucien Barbarin, Crönk, UMAMI, The New Birth Brass Band, John Boutte, and A Kind of Lovechild.
Today, he leads bands, writes songs, teaches piano improvisation, and continues to practice, practice, practice! It is an honor to perform music for a living. And it is his desire not just to entertain audiences, but to engage, educate, and enlighten both himself and all willing listeners.
Category:
Tags: Carousel Bar, carousel bar and lounge, hotel monteleone, new orleans live music, new orleans music, paul longstreth
You might also like