Satchmo Summerfest 2013
Friday, August 2, 2013 12:00 AM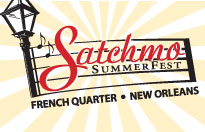 Don't miss Satchmo Summerfest at the Old U.S. Mint in the New Orleans French Quarter.
The festival features music all weekend on festival stages featuring local musicians playing traditional jazz, contemporary jazz, brass bands.
Every year, the festival throws a Louis Armstrong Birthday Party, a Satchmo Art Show, Sunday morning Jazz Mass at historic St. Augustine Church in Treme with a traditional second line parade, a Trumpet Tribute to close the festival, the Satchmo Club Strut, and more!
The festival serves up all the New Orleans cuisine and dishes that Louis Armstrong loved in 'Red Bean Alley,' with Food & Drinks: Abita Beer as 'the local beer for the locals' festival.'  Don't forget Plum Street Snoballs for dessert!
The festival also offers kids' activities and entertainment, as well as free seminars and discussions about Louis Armstrong, the iconic New Orleans trumpet player.
This event is free and open to the public.
Event Dates:
Friday, August 2, 2013
Saturday, August 3, 2013
Sunday, August 4, 2013
Category:
Tags: louis armstrong, new orleans festivals, new orleans food, new orleans live music, new orleans music, satchmo summerfest, satchmo summerfest 2013
You might also like