Zoo-To-Do For Kids
Friday, April 26, 2013 6:30 PM
Audubon Zoo's Zoo-To-Do for Kids is New Orleans's premier benefit event for children of all ages where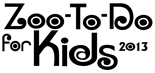 Audubon Zoo is transformed into a magical play land.
Live entertainment, face painters, musical performances, sports and cheerleading clinics, strolling performers, arcade games, inflatables, crafts and a video game center.
Tickets includes complimentary food and beverages to delight every palate. The Sponsor and Patron party during the event includes upscale beverage bars, delicious cuisine, children's entertainment, a free tote bag and a reserved parking permit!
Early Admittance
5:30 pm – 9:00 pm
Tickets: $40
General Admittance
6:30 pm – 9:00 pm
Audubon Member: $20
Non Member: $25
Sponsor and Patron Party
5:00 pm – 9:00 pm
Inside the VIP Hospitality Tent
Proceeds from the 2013 Zoo-To-Do for Kids will help support Audubon Zoo.
Buy Zoo-To-Do For Kids Tickets
Category:
Tags: audubon zoo, family-friendly, zoo-to-do, zoo-to-do for kids
You might also like