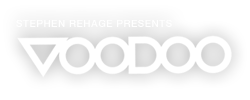 The Voodoo Music Experience is here once again for Halloween weekend. New Orleans is slowly becoming the place in America to celebrate Halloween and the Voodoo Fest is a big reason for this honor.
The celebration begins October 26th, 2012 and ends on the night of the 28th. The festival will have bands playing in New Orleans City Park and throughout the city.
This year, the Voodoo Experience will once again present a large-scale exhibition composed of a series of interactive, site-specific installations scattered throughout City Park. The exhibition will be curated by Stefan Beese and Voodoo founder and producer Stephen Rehage. As in the previous years, this year's exhibition will feature a celebrated group of both local and international artists.
The purpose of the exhibition is to provide another layer in a comprehensive, multi-sensory "experience" that elicits both physical and emotional responses from festival-goers. The vibrant pieces celebrate experimentation with technology and electronic media, along with the non-conventional use of sustainable materials.
Another key aim of the various art installations is to emphasize the human element in this large-scale event by providing interactive opportunities for participants to make both their individual and collective presence felt. In this way, the works express the spirit of performance and audience participation that is the essence of the music festival as a public gathering.
Every night when the gates close, the festival isn't over. The Voodoo Experience moves into the streets of New Orleans. Places like Frenchmen Street, the French Quarter, Uptown, and the Warehouse District will be celebrating the Halloween weekend. Most of the local Voodoo performers will be found in local bars and clubs like Tipitina's, the Howlin' Wolf, One Eyed Jacks, D.B.A., Republic, House of Blues and many others. So just because City Park is closed doesn't mean the Experience is over!