Haunted Hotels New Orleans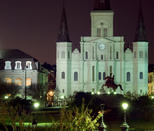 The Hotel Monteleone has long been a favorite haunt of distinguished Southern authors and many of them immortalized the Grand Dame of the French Quarter in their works. Ernest Hemingway, Tennessee Williams, and William Faulkner always made 214 Royal Street their address while in the Crescent City. While in the Carousel Bar & Lounge, Truman Capote used to boast that he was born in the Monteleone. (He wasn't. Though his mother lived at the historic hotel during her pregnancy, she safely made it to the hospital in time for Truman's debut.) The list doesn't stop there; Anne Rice, Stephen Ambrose and John Grisham also joined the ranks of literary guests over the years making our hotel the premiere destination for haunted hotels in New Orleans.
Generations of hotel guests and staff have regularly experienced haunted events that would cause even the staunchest skeptic to take pause. This haunted hotel in New Orleans has a restaurant door that opens almost every evening and then closes again, even though it is locked. An elevator that stops on the wrong floor, leading a curious couple down a hallway that grows chilly and reveals the ghostly images of children playing. Hotel Monteleone is known for being one of the premier haunted hotels in New Orleans.
This historic New Orleans landmark is a member of Historic Hotels of America. The hotel boasts 19 meeting and reception rooms, 570 newly renovated rooms and suites, 2 Award-Winning restaurants, the famous Carousel Bar & Lounge, Logo Shop, heated rooftop pool, SPA Aria, state-of-the-art exercise facility, and valet parking.
It's been said that the French Quarter begins in the lobby of the Hotel Monteleone. And in fact, this venerable establishment sits majestically at the foot of Royal St. giving guests the best point of departure for all things New Orleans. Visitors need only step outside this French Quarter hotel to discover shop after shop of fabulous European antiques, estate jewelry, Oriental rugs, and art and antiquities from around the world. Quaint restaurants and specialty shops line the cobblestone French Quarter streets that lead to Jackson Square, the Old French Market and the Riverwalk where tourists and native New Orleanians stroll the levee and watch the steamboats and barges along the Mississippi River. At this New Orleans hotel you'll find history around every corner.
Haunted Hotel Suite Amenities
The signature and junior suites of the Hotel Monteleone offer all of the conveniences of the hotel's luxurious guestrooms plus portable phones, CD players, bar, and refrigerators. The bathrooms offer separate glass showers, garden Jacuzzi bathtubs or Jacuzzis.
Some parlors feature sofa beds, wet bars, ice makers, fax machines and plasma televisions.
We offer world-class guest rooms at the Hotel Monteleone. Each of the hotel's guestrooms has been recently refurbished, and many boast high ceilings, crown molding and traditional decor. All of the rooms are also both non-smoking and pet friendly.
The Traditional Rooms are perfect for the individual traveler, and are available with a king bed or two double beds. Many of the Traditional Rooms offer views of the French Quarter or the mighty Mississippi River. Our Preferred Rooms are the largest of our rooms, and also available with a king bed or two double beds. Most of our Preferred Rooms feature views of either the Mississippi River or the French Quarter. If you're looking for the best hotel rooms New Orleans has to offer then look no further then the historic Hotel Monteleone.
Haunted Hotel Guest and Group Suites
With 55 New Orleans hotel suites, the Hotel Monteleone can accommodate practically every traveler's need with our Executive, Vieux Carre and Riverview Suites, Salons and Parlors. Ranging from 207 square feet to over 358 square feet, these rooms offer an array of views, overstuffed beds, Jacuzzis, and upscale amenities. All guest suites feature CD players, portable telephones, high-speed Internet, minibars and other upscale amenities.
At the Hotel Monteleone, we strive to offer our guests everything they could possible need when it comes to services and amenities while making us their home away from home or office away from office! We are delighted to provide high-speed Internet access, a full service business center, newly remodeled fitness room, rooftop heated pool with breathtaking views of the downtown New Orleans skyline, and a full service day spa. With room service, two restaurants, and the most popular hotel bar in New Orleans, we also offer gift cards, to ensure the gift of the Hotel Monteleone will be memorable and greatly appreciated! Our New Orleans lodging has an historic feel to it and is the premier choice for visitors to the French Quarter.