Luxury Hotels in New Orleans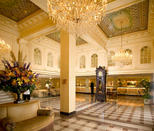 It's been said that the French Quarter begins in the lobby of the luxurious Hotel Monteleone. And in fact, this venerable establishment sits majestically at the foot of Royal St., giving guests the best point of departure for all things New Orleans. Visitors need only step outside this French Quarter luxury hotel to discover shop after shop of fabulous European antiques, estate jewelry, Oriental rugs, and art and antiquities from around the world.
Quaint restaurants and specialty shops line the cobblestone French Quarter streets that lead to Jackson Square, the Old French Market and the Riverwalk where tourists and native New Orleanians stroll the levee and watch the steamboats and barges along the Mississippi River. At this luxury hotel in New Orleans you'll find history around every corner.
Since 1886, the Hotel Monteleone has proudly stood as one of the first landmarks in the world-famous French Quarter. Featuring 600 luxurious guestrooms and 55 suites, the Hotel Monteleone is within walking-distance of some of New Orleans' most famous attractions and restaurants. Each spacious guestroom offers in-room safe, minibar, high-speed Internet access, 25″ color large screen cable television, iron & ironing board, two phones per room with voicemail, coffee maker & coffee, and Nintendo.
Luxury Suite Amenities
The signature and junior suites of the Hotel Monteleone offer all of the conveniences of the hotel's luxurious guestrooms plus portable phones, CD players, bar, and refrigerators. The bathrooms offer separate glass showers, garden Jacuzzi bathtubs or Jacuzzis. Some parlors feature sofa beds, wet bars, ice makers, fax machines and plasma televisions making it the perfect destination for luxury hotels in New Orleans.
We offer world class luxurious guest rooms at the Hotel Monteleone. Each of the hotel's guestrooms has been recently refurbished, and many boast high ceilings, crown molding and traditional decor. All of the rooms are also both non-smoking and pet friendly. The Traditional Rooms are perfect for the individual traveler looking for luxury hotels in New Orleans, and are available with a king bed or two double beds. Many of the Traditional Rooms offer views of the French Quarter or the mighty Mississippi River.
Our Preferred Rooms are the largest of our rooms, and also available with a king bed or two double beds. Most of our Preferred Rooms feature views of the Mississippi River or the French Quarter. If you're looking for the best luxury hotel rooms New Orleans has to offer then look no further then the historic Hotel Monteleone.
Guest & Group Suites
With 55 New Orleans luxury hotel suites, the Hotel Monteleone can accommodate practically every traveler's need with our Executive, Vieux Carre and Riverview Suites, Salons and Parlors. Ranging from 207 square feet to over 358 square feet, these rooms offer an array of views, overstuffed beds, Jacuzzis, and upscale amenities. All guest suites feature CD players, portable telephones, high-speed Internet, minibars and other upscale luxury amenities.
At the Hotel Monteleone, we strive to offer our guests everything they could possibly need when it comes to luxurious services and amenities while making us their home away from home or office away from office! We are delighted to provide high-speed Internet access, a full service business center, newly remodeled fitness room, rooftop heated pool with breathtaking views of the downtown New Orleans skyline, and a full service day spa.
With room service, two restaurants and the most popular hotel bar in town, we also offer gift cards, to ensure the gift of the Hotel Monteleone will be memorable and greatly appreciated! Our New Orleans lodging has an historic feel to it and is the premier choice for visitors looking for luxury hotels in New Orleans and the French Quarter.