Services & Amenities
New Orleans Hotel Luxury Amenities
The Hotel Monteleone strives to offer our guests everything they could possibly need.  Our New Orleans luxury hotel offers all the services and amenities you will need while making us your home away from home or office away from office!
For business travel to New Orleans, we provide WiFi and high-speed Internet access, a full service business center, and meeting space.  Play after work in our state-of-the-art fitness room, rooftop heated pool with breathtaking views of the downtown New Orleans skyline, and full-service day spa. Experience the best New Orleans dining with our Criollo Restaurant & Lounge.  Visit the most popular New Orleans hotel bar, Carousel Bar & Lounge.
Hotel Monteleone also offers gift cards, to ensure the gift of a stay at our hotel will be memorable and greatly appreciated! The New Orleans Hotel Monteleone has an historic feel.  It is the premier choice for French Quarter visitors looking for a luxury hotel experience in the French Quarter during their vacation or business trip to New Orleans.
Pet Friendly New Orleans Hotel
The Hotel Monteleone is also ready to cater to your furrier family members as well.  This pet-friendly hotel is one of the few New Orleans luxury hotels in Louisiana that offer pet-friendly services, including a mat with water and food bowls, a bag of treats, and a pet-friendly brochure filled with places in the city where your pets are welcome.
Guests Love Our New Orleans Hotel
"It was truly a pleasure to stay at such a fine hotel. The service was wonderful and I will be sure to recommend your hotel to others."
"The Hotel Monteleone staff fully understands what hospitality means, Thank you so much!"
"I really enjoyed my stay here. Your staff is friendly and helpful. The room and bath were clean and well kept. I love the history of the Monteleone, Thank You"
Business Center
During your business travel or conference meeting at the Hotel Monteleone, Royal Productions will support your audio/visual needs, from concept to completion. We understand the convenience of a full-service audio/visual production company at your fingertips, and our hassle-free, professional service will provide you with the comfort and security of knowing that your event will be a success.
Throughout our 20 years of service to the Hotel Monteleone, we have provided guests with incredibly gifted audio visual technicians, astoundingly talented artists, designers and carpenters, and an expansive inventory of first rate audio visual equipment. Not only do we consistently rise above our guests expectations, we re-establish their expectations with each and every event.
Available 24/7 using room key.
Fitness Center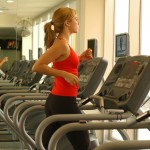 Our rooftop Fitness Center offers panoramic views of both the Mississippi River and the French Quarter. Our cutting edge exercise facility is on-premises and available 24/7 with room key access. Our New Orleans luxury hotel is making it easy for our visitors to keep fit and relieve stress during their stay.
Visitors can work out on state-of-the-art Star Trac equipment with built-in television monitors on each machine.  The 24-hour Fitness Center is provided for the exclusive use of hotel guests, including full cardio machines and gym equipment. Chilled water and complimentary fruit provide a source of hydration and a nutritious snack.
Fitness Center Equipment
Startrac:
Crosstrainers
Pro-Series Treadmill
Pro-Recumbent Bikes
Pro-Upright Bikes
Pro-Stepper
Strength Training Equipment:
Leg Extensions
Abdominal machine
Vertical Press
Lat Flexor
Bi-Cep Curl
Rooftop Pool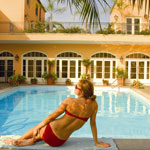 The Hotel Monteleone has a heated rooftop pool for you to enjoy after a long day of sightseeing or business. With picturesque views of the city, our New Orleans luxury hotel pool is open year-round. Take advantage of our poolside bar, where you'll delight in our refreshing and invigorating beverages.
The Hotel Monteleone pool is open from 7:00 a.m. – 10:00 p.m. Acqua Bella, our poolside bar is open from 11:00 a.m. – 7:00 p.m. and serves a wonderful selection of refreshing beverages and light bites.
Download a copy of the Acqua Bella menu.
SPA ARIA
A cozy retreat tucked within our exquisite New Orleans luxury hotel, Spa Aria transcends relaxation. The spa envelops you like the warmth of a summer evening in New Orleans. From the soft glow of candles to the infusion of fragrance, Aria transcends you to a place of repose.
Whether it's your head or your toes or your entire body that needs soothing, our gifted staff will guide each guest through a satisfying journey. Using intuitive hands and world-renown products from Jurlique, our pampering is certain to ease the most exhausted souls.
Comforting, rejuvenating, unforgettable – Aria, a breath of fresh air.
Hours of Operation
Monday – Saturday: 9:00 a.m. – 8:00 p.m.
Sunday: 9:00 a.m. – 8:00 p.m.
Closed Holidays: Mardi Gras, Easter, Thanksgiving and Christmas
SPA MENUS
Massage
A time honored favorite. Swedish technique is combined with pressure point work to help ease fatigue and invigorate the body. Whether you are seeking deep tissue sport; or peacefully nurturing massage, our knowledgeable staff can customize a massage to fit your every need.
Reflexology
The therapeutic benefits of this ancient Chinese practice reach far beyond hands and feet, detoxifying and balancing the entire body. We take reflexology beyond traditional forms to make it a truly relaxing experience.
Pedicures
Eight revolutionary products are used to exfoliate, hydrate and leave feet smooth and silky. These eight integrated steps transform travel weary feet into beautiful, happy feet in just one hour.
Manicures
Enhanced through the relaxing application of the finest botanical products available, this hand treatment creates an immediately visible radiance. Meticulous attention to detail will assure optimal results whatever the length and condition of the nails.
Mini Pedicures and Manicures
When time is of the essence, all the aesthetics of our nail treatments in half the time.
Spa Treatments/Body Wraps
Organic Rituals from Malie Kaui, Hawaai. Experience the healing properties of coconut oil. These aromatic treatments will have you in a state of true relaxation. All Rituals include a shower in our 16-jet rain shower and a 45-minute massage. Rest-assured that you will be stress-less after this experience. Three Rituals to choose from: Rescue, Renew, or Beautify. We also have a fabulous mud wrap. Our most popular treatment is the Pevonia Salt Glow.
Pet Amenities
Our New Orleans luxury hotel amenities aren't just for humans — Hotel Monteleone is pleased to offer pet-friendly hotel packages to pamper your favorite four-legged friends, too.
Upon check-in, guests who have a pet must sign a pet application that outlines specific rules and fees that are charged (a $100 non-refundable cleaning fee and a $25 per night "pet rate.") and they will receive "Monte's Pet Package".
For more information, please speak to our Reservations team.
Parking
The Hotel Monteleone owns and operates two, 24-hour valet parking facilities. One located on property and the other off-site, 1 block from hotel.  Rate is $40 plus tax for regular size vehicles, per day. Rate is subject to change without notice.