Wedding Receptions in New Orleans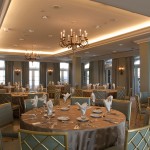 Hotel Monteleone has hosted countless weddings and social events. But never one quite like yours. We know that you want your wedding to be as unique as the love it celebrates, and so do we. That's why the Hotel Monteleone offers so many options, covering everything from the hors d'oeuvres at your rehearsal dinner to the ice sculpture at your reception.
Hotel Monteleone gives you the choices that make your wedding your own, and the help you need to make them wisely. The Hotel Monteleone is first choice when it comes to locations for wedding receptions in New Orleans.
The Hotel Monteleone is here to help you create an experience for a lifetime. Whether it's the grandeur of the Queen Anne Ballroom or a rooftop reception in the Riverview Room, we'll see to it that every detail is handled with as much care and consideration as you'd give it yourself. Our hotel guests often comment on the exceptional detail and quality of our reception halls. The French Quarter provides the most elegant experience for wedding receptions in New Orleans.
From a complimentary suite to a customized menu to a free room on your first anniversary, your wedding will be as perfect as only Hotel Monteleone can make it. Because only Hotel Monteleone has the experience, confidence and facilities to create the event you want. Romance, after all, has always found its home in the French Quarter.
We love weddings. And we bring the same level of freshness, flair and responsiveness to anniversary celebrations and other social events.
We begin by listening to you, learning about your hopes, dreams and expectations. Then our wedding planners help you assemble a package that will make your dream wedding a perfect reality. Best of all, we make sure your wedding happens just as planned.
Making your wedding your own is all about options, especially when it comes to the menu. From cold and hot hors d'oeuvres to specialty stations and enhancements like ice carvings and international coffees, we bring all the great taste of Hotel Monteleone to your wedding celebration. Our professional experience with Hotel Monteleone is world class and carefully planned. Please contact the Hotel Monteleone for more information about your special day.
We offer world class guest rooms at the Hotel Monteleone. Each of the hotel's guestrooms has been recently refurbished, and many boast high ceilings, crown molding and traditional decor. All of the rooms are also both non-smoking and pet friendly. The Traditional Rooms are perfect for the individual traveler, and are available with a king bed or two double beds. Many of the Traditional Rooms offer views of the French Quarter or the mighty Mississippi River. Our Preferred Rooms are the largest of our rooms, and also available with a king bed or two double beds. Most of our Preferred Rooms feature views of the Mississippi River or the French Quarter. If you're looking for the best hotel rooms New Orleans has to offer, then look no further then the historic Hotel Monteleone. We are sure to make your wedding day everything you dreamed of and more. To find out more about wedding receptions in New Orleans, please contact the Hotel Monteleone directly at (504) 648-4711.