Summer vacations just aren't as fun when you're worried if you've spent a little too much. That's why we're here to help: with special summer rates at Hotel Monteleone, you can stay in the heart of New Orleans, explore popular summer events and enjoy all the amenities of our luxury French Quarter hotel at a fraction of the usual price: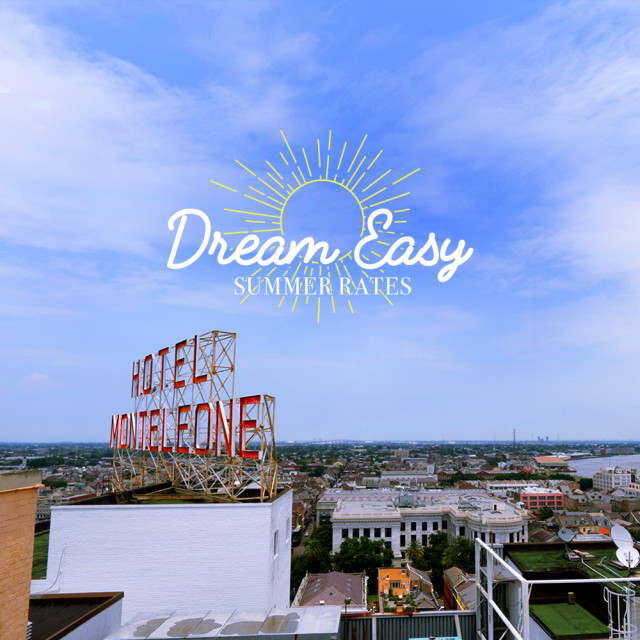 Rooms start as low as $129 per night! Like summer itself, though, these seasonal deals can't last forever. Dream easy with our summer vacation rates and book your summer stay with us now.
Here are just a few of the things you'll enjoy while you're a guest at Hotel Monteleone:
Top New Orleans Attractions, Just Steps Away…
Our location in the heart of the French Quarter is just steps away from many top New Orleans attractions. When you stay with us, you'll be within walking distance of Bourbon Street entertainment, shopping on Royal Street, and the world-famous beignets and café au lait of Cafe Du Monde. New Orleans offers plenty of modes of transportation, so no matter what's on your itinerary, it's easy to get around.
Live Jazz Music
No need to seek out a separate events space or concert while you're here. Simply head downstairs from your room to the Carousel Bar & Lounge, where you can hear live music from prominent local jazz musicians. Nayo Jones, Robin Barnes, and Lena Prima all perform regularly… music to our ears.
A Rooftop Pool
Our roof-top pool is open year-round, but it's especially enticing in summer, when you can soak up the sun and enjoy a cold cocktail (we have special pool menus for both food and drink) while taking in an unforgettable view of the New Orleans skyline. It's like having a beach vacation and a city getaway rolled into one!
New Orleans History (and Modern Luxury)
Our hotel has a rich history that dates back centuries, much like New Orleans itself. Famed authors have stayed here, our hotel has been featured in films, and it's even been referenced in great literary works by playwright and author Tennessee Williams. But all that history doesn't mean we're stuck in the past. Hotel Monteleone is that perfect New Orleans combination of reverence toward the past with an eye on modern luxury and comfort.
An On-Site Spa
Relaxing is an important part of any vacation, which is why we have Spa Aria, an on-site spa with a full menu of indulgent services like pedicures and massages. Pamper yourself this summer to the Spa Aria Summer Special Package, featuring discounted Aria Manicure and Aria Ultimate Pedicure services.
Criollo Restaurant
Just as you won't need to head to Frenchmen Street for live jazz (though it's only a short walk if you choose to!), you also won't need to leave the hotel to enjoy a decadent New Orleans meal. Criollo boasts menus for breakfast, lunch, and dinner that focus on seasonal ingredients and flavors indicative of traditional Louisiana cuisine.
Book Your Summer Vacation Now!
What are you waiting for? Take advantage of our special summer rates and book your French Quarter vacation today!
Take advantage of this exclusive promotion with summer rates as low as $129.00 per night, Sunday through Thursday. Based upon availability. Stay dates May 29, 2017 – September 8, 2017. Promotional rates vary and are higher on Friday and Saturday nights.