Sponsored by the Hash House Harriers, a self-proclaimed "drinking club with a running problem," the annual Red Dress Run through the French Quarter and downtown New Orleans is another of those uniquely New Orleans fun events that doubles as a fundraiser.
It is open to men and women alike, and though the concept originated as a charitable event to raise money for breast cancer research, it donates its proceeds to other charities as well.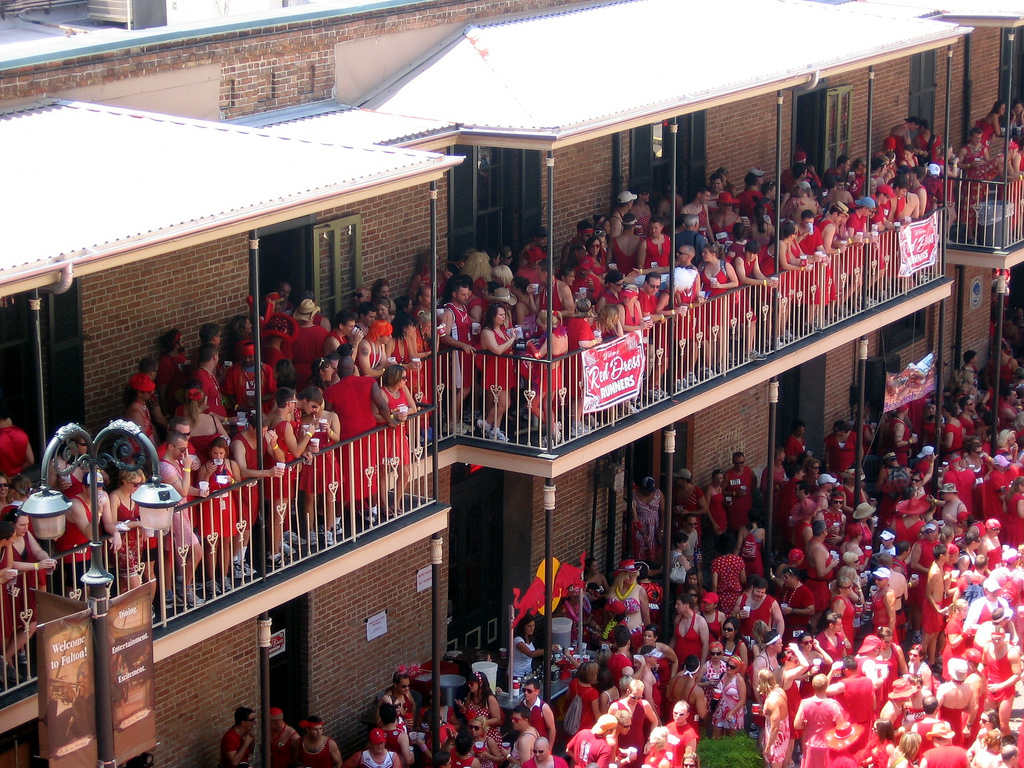 2016 Red Dress Run
This year's run takes place on Saturday, August 13th. The run is usually between 3 and 4 miles (no one clocks it exactly) and participants start assembling, registering and drinking(!) at 9:00 a.m. There is live music before and after the race which begins at 12:30 p.m. Participation is open to anyone over 21 "who has a good sense of humor and realizes that August in New Orleans is HOT!"  Wearing a red dress (or less!) is an absolute requirement. What you get for your participation is "Beer, Food, Music, Giveaways, and stories to tell your kids."
Don't have a red dress? Don't worry. The HHH Haberdashery will be more than happy to fit you for one, and chances are they have one just your size among their fabulous selection of outlandish clothing items.
The New Orleans Hash House Harriers (in shorthand, also known as NOH3) is one of the many clubs and organizations in New Orleans whose main purpose is to have fun, celebrate the city's unique joie de vivre (joys of life) and raise money for worthy causes. Its members love to dress up in outlandish costumes, consume alcoholic beverages – especially beer (within reason, of course), sing bawdy songs with X-rated lyrics and devise any excuse or reason at all to have a party. And they run (or attempt to run) nearly every weekend of every month.
For more information about the Red Dress Run go to nolaredress.com.
Where To Stay For Red Dress Run
If you're looking for the perfect place to stay in the heart of the French Quarter for this event or the many upcoming August events, we'd love to have you as our guest. Our summer special is running through early September with rooms starting at just $129 a night. Book a room today!