A new season is upon us. As we slowly ease out of spring and into summer at Hotel Monteleone, locals and tourists alike know this is one of the best times of the year to see New Orleans in full bloom.
There are always fresh flowers in the lobby and wildflowers in the parks. Expect to celebrate the May holidays with delicious meals at Criollo or Parisian outdoor dining in the French Quarter while the sun goes down. Pack a classic seersucker attire and plan to sip light and refreshing beverages from the Carousel Bar or out on a Riverboat while breezes surround you on the Mighty Mississippi. And the best part is that only Hotel Monteleone can put you right in the middle of French Quarter strolls and holiday events. We are also conveniently located near the streetcar, so explore a festival, music event, or holiday outside the Quarter. 

Mother's Day
Moms are undeniably special. They come in all shapes and sizes, but we know what they like. They want one day to know they are loved, cared for, and honored.
For the mom needing a break from her daily routine, book tickets for a Riverboat Cruise. Decide between a Steamboat ride, Paddleboat cruise, history tour, or dining experience. You can find ticket booths just steps away from our Hotel. Just ask our concierge downstairs for more information.




Photo by @mr.worldcr

For the mom who always cooks for everyone, make a reservation for brunch at Criollo. Eggs galore, fancy cocktails and sweet desserts are on the menu. We recommend gathering your krewe outside of the Hotel for a family photo she'll want to frame. 

Photo by @criollo_nola

For the mom who never forgets your birthday, give her a gift to our Hotel Gift shop to spend at Spa Aria while she's here. Or, if she's into antiques that echo back to a moment in time, walk down Royal and pop into shops from glass to art to memorabilia. 

Photo by @kizerandbender
While these small ideas may not sufficiently celebrate all your mom has done for you throughout the years, they are beautiful ways to stop time and reflect on her importance in your life. 

Cinco De Mayo
New Orleans loves celebrating a holiday even if we didn't start it. Cinco de Mayo may be known as a crowd-pleasing event for foodies and fans, but here in New Orleans, we also honor the holiday. Did you know on Basin Street, right outside of the French Quarter, there is a statue of Benito Juarez, the "Father of Mexico?" Despite being out-numbered two-to-one, many Haitian-trained Mexicans and Haitian-descended New Orleanians defeated the French on May 5, 1862. So, grab some tacos and margaritas as we remember the actual link between the histories of Mexico, Haiti, and Louisiana runs deep.  
Here are our recommendations within walking distance — specifically in the French Quarter: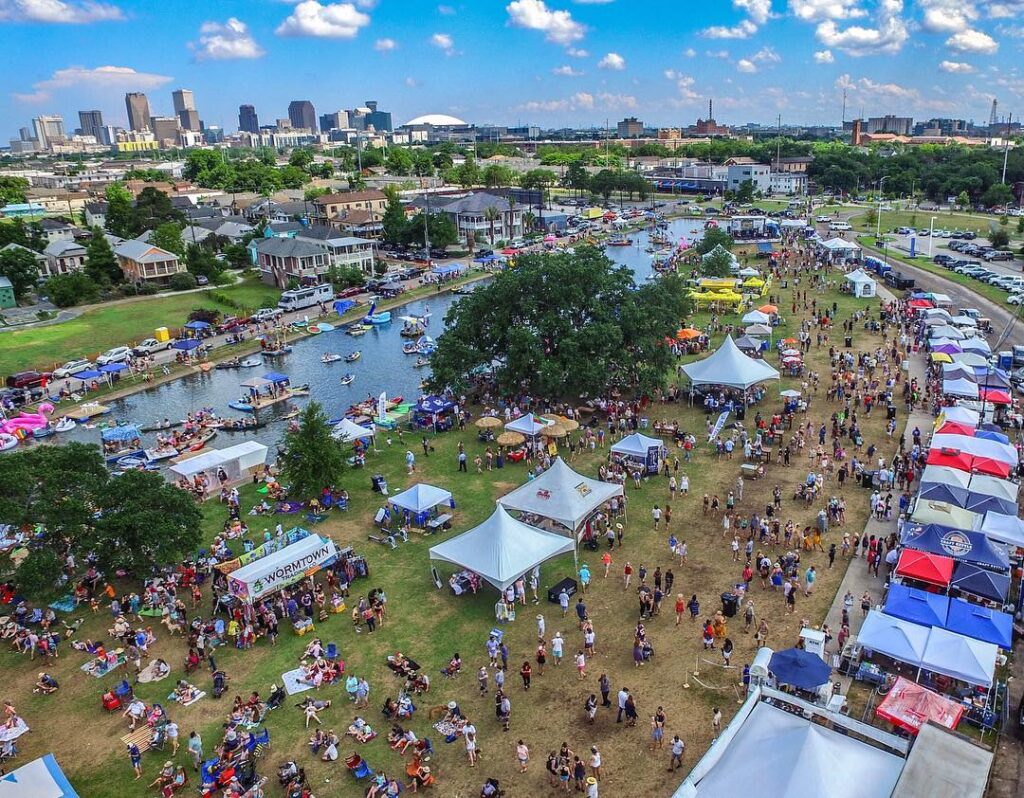 Bayou Boogaloo is an annual festival in New Orleans celebrating the city's unique culture, music, and food. Taking place May 19th – 21st along the banks of Bayou St. John, it's just a 10 minute drive from Hotel Monteleone. Alternatively, you can hop on the Canal St Streetcar for a 15 minute ride and walk a half mile down the Norman Francis Parkway. The festival attracts a diverse crowd of locals and tourists who come to enjoy the live music, delicious food, vibrant atmosphere. 
At Bayou Boogaloo, you'll be immersed in the sounds of New Orleans' best musicians, from Rebirth Brass Band and The Quickening to Juvenile and Yonder Mountain String Band. You'll also have the chance to sample some of the city's most iconic dishes, like crawfish étouffée and po'boys. 
 
The festival takes place over three days and offers something for everyone, whether you're looking to dance the night away or float on the bayou with a cold drink in hand. This is a family-friendly event, with programming to keep the smaller attendees entertained all three days.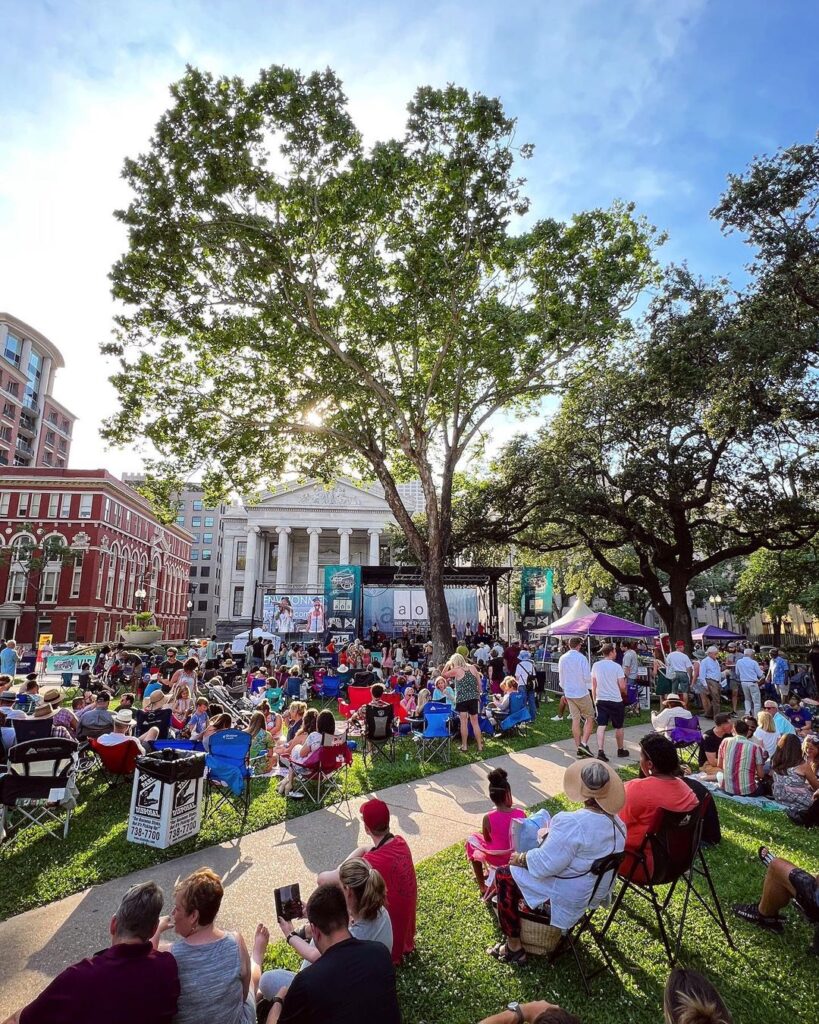 Wednesday at the Square is a sensational concert event that takes place in New Orleans' Lafayette Square, an easily walkable half mile down St Charles Ave from Hotel Monteleone, every Wednesday from March 15th through May 17th. This popular event offers a unique opportunity to experience the best of New Orleans' vibrant music scene in an outdoor setting, with The Soul Rebels and Tonya Boyd-Cannon performing on May 3rd, Nigel Hall + Miss Mojo on May 10th, and glbl wrmng + LeTrainiump on the final day, May 17th. 
 
The atmosphere at Wednesday at the Square is electric. The event provides an ideal opportunity to mingle with locals and tourists alike while enjoying the music, food, and drinks on offer. Guests can choose from a range of gourmet food trucks and artisanal beverage stands while soaking up the warm evening sun and taking in the stunning views of the city's skyline. 
 
It is free to attend, and the music begins at 5 pm and ends at 8 pm, allowing guests to continue their evening at other local establishments or you can head back to your luxurious accommodations at Hotel Monteleone to relax in the rooftop pool and enjoy the view of the French Quarter. Wednesday at the Square is an experience that visitors to New Orleans won't want to miss.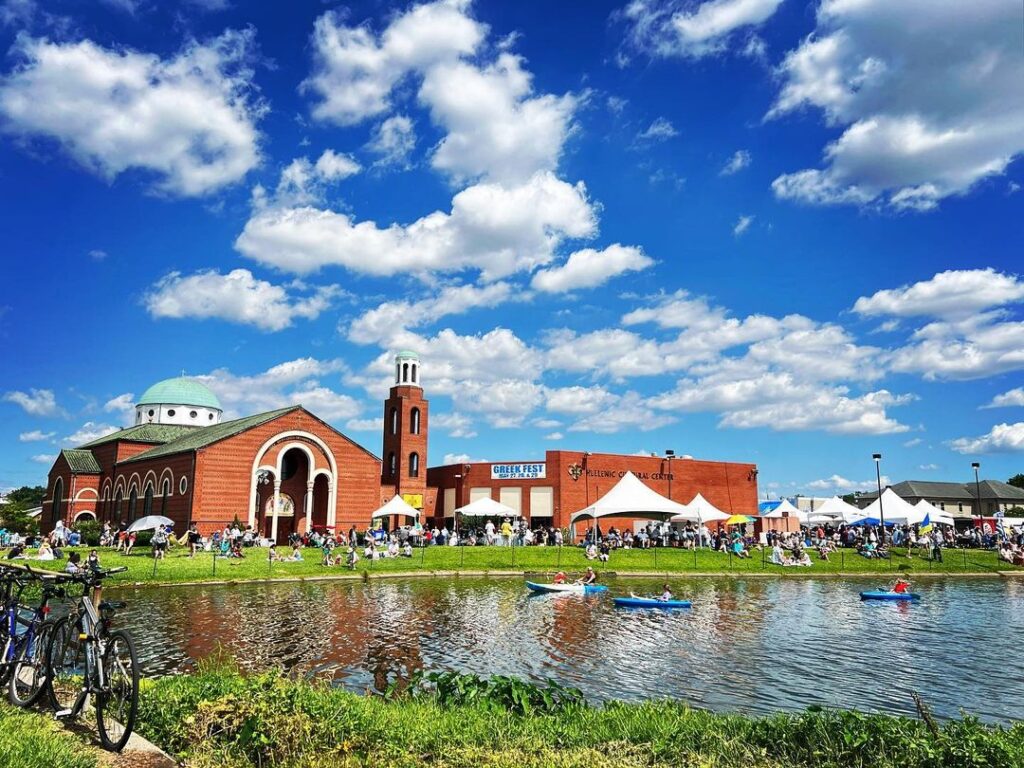 The New Orleans Greek Festival is Memorial Day Weekend tradition that showcases the rich cultural heritage of the Greek community in New Orleans. As you walk along the banks of Bayou St John to the Holy Trinity Orthodox Cathedral, you will be transported to Greece with the smell of fresh Greek food in the air, traditional music playing in the background, and vibrant decorations adorning every corner. 
 
One of the highlights of the festival is the food. You can try classic Greek dishes, such as gyros, souvlaki, and spanakopita, or indulge in traditional Greek desserts like baklava and loukoumades. The festival also features a wine garden, where you can sample a selection of Greek wines and Mythos Beer. 
 
The festival offers a variety of activities for visitors, including cooking demonstrations, the Greek Festival 5k on Saturday morning, Hellenic dance performances, and live music. There is a playground for the little ones, an outdoor market with Greek paintings, jewelry, and other souvenirs, and Cathedral tours.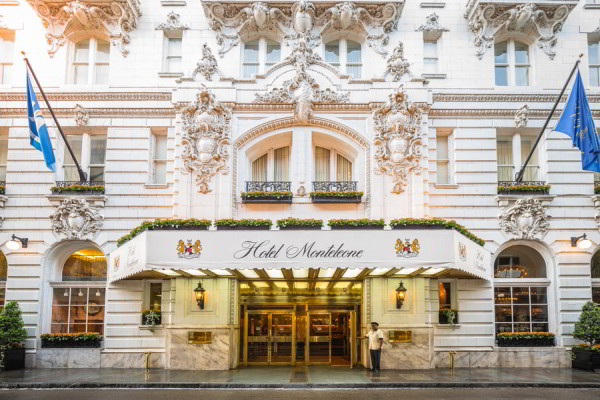 Whether you start or end your day at Hotel Monteleone, your stay will be one-of-kind, basking in history, holidays, good eats, and New Orleans culture come to life. Sitting by a rooftop pool with a coffee or cocktail is another excellent way to pause and daydream as we settle into a new season. Read more about the pool and all it offers!
Book your next trip to New Orleans today and discover all the attractions that New Orleans has to offer.