Think August is slow? Think again. In New Orleans, higher temperatures and longer days don't discourage us from our usual festivities. In fact, August features several events worth penciling into your calendar. Here's the scoop: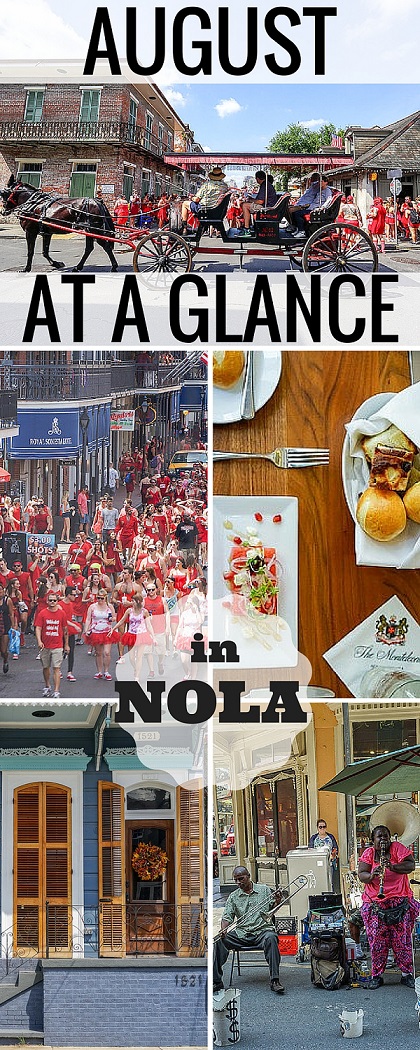 White Linen Night
On Saturday, Aug. 6 at 6 p.m., Julia Street in the Warehouse District becomes a catwalk for patrons wearing all white. White Linen Night is when New Orleanians (and visitors) stroll along Julia Street and admire works of art from local galleries while dressed in all white. A pure-white outfit isn't required, but dressing the part is definitely encouraged. There will also be food, drinks, and live entertainment on hand to give the evening a festive feel. 

Dirty Linen Night 
The following weekend, Dirty Linen Night takes over in the French Quarter on Saturday, Aug. 13 at  6 p.m. This arts event is similar to White Linen Night, but patrons are encouraged to wear the same white linen from the previous weekend now that it's dirty. Shopkeepers often give away themed food and drink like dirty rice and dirty martinis, but if you can't find a drink, no problem: head to the Carousel Bar & Lounge where a bartender will make you a dirty martini to your exact specifications. 
So many #august events happening in #nola! Click To Tweet

Red Dress Run
Before Dirty Linen Night gets started, you can enjoy another NOLA tradition: Red Dress Run. Open to men and women alike, Red Dress Run does require participants to dress up (in a red dress, of course). Registration is $70 online, and proceeds benefit dozens of charities in the city. 

COOLinary
Our personal favorite of all the New Orleans August events is COOLinary, for a couple reasons: 
It lasts all month, so you can enjoy prix fixe brunch, lunch, or dinner at select, award-winning restaurants for a fraction of the normal price
Our on-site restaurant, Criollo, is participating
Find out more about COOLinary on their website, and check out the full Criollo COOLinary menu online.