Learn how to make some of your favorite cocktails from the legendary Carousel Bar at home with these cocktail recipes. Located inside the Hotel Monteleone in the French Quarter, the Carousel Bar is the perfect place to start or end a day exploring the Big Easy. As it is said, the French Quarter begins in the lobby of the Hotel Monteleone. We agree, but we would also throw in a spin around the Carousel as well. Read below to learn the ingredients and recipes for a Mint Julep, French 75, and our famous Vieux Carre cocktail.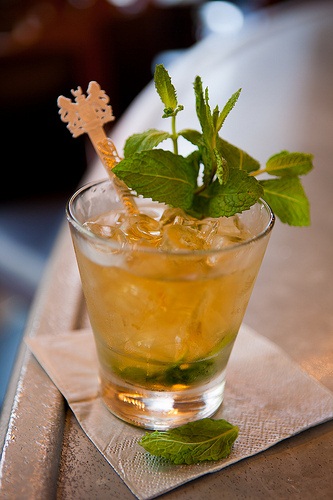 The Mint Julep Cocktail Recipe
4 Sprigs of Mint
2 ½ oz. Bourbon
1 tsp. Powdered Sugar
2 tsp. Water
Muddle mint leaves, powdered sugar, and water in a Collins glass. Fill glass with crushed ice and add bourbon. Top with more ice and garnish with a mint sprig.
The French 75 Cocktail Recipe
½ oz. Brandy
½ oz. Fresh Lemon Juice
¼ oz. Simple Syrup
5 oz. Sparkling Wine
Place brandy, fresh lemon juice and simple syrup in a Boston Shaker. Shake until chilled. Strain into a champagne flute and top with sparkling wine. Garnish with a lemon twist.
The Vieux Carre Cocktail Recipe
½ oz. Benedictine liqueur
½ oz. rye whiskey
½ oz. cognac
½ oz. sweet vermouth
Peychaud's bitters
Angostura bitters
Lemon twist, for garnish
Stir Benedictine liqueur, rye whiskey, cognac, sweet vermouth, 1 dash each Peychaud's and Angostura bitters, and ice in a chilled old-fashioned glass. Garnish with a lemon twist.