Learn how to make some of your favorite cocktails from the legendary Carousel Bar at home with these cocktail recipes. Located inside the Hotel Monteleone in the French Quarter, the Carousel Bar is the perfect place to start or end a day exploring the Big Easy. As it is said, the French Quarter begins in the lobby of the Hotel Monteleone. We agree, but we would also throw in a spin around the Carousel as well. Read below to learn the ingredients and recipes for a Mint Julep, French 75, and our famous Vieux Carre cocktail.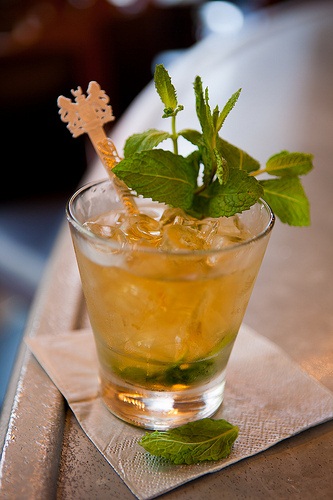 The Mint Julep Cocktail Recipe
4 Sprigs of Mint
2 ½ oz. Bourbon
1 tsp. Powdered Sugar
2 tsp. Water
Muddle mint leaves, powdered sugar, and water in a Collins glass. Fill glass with crushed ice and add bourbon. Top with more ice and garnish with a mint sprig.
The Sazerac – A New Orleans Classic Cocktail
The Sazerac is the official cocktail of New Orleans and is an old-fashioned variation of a cognac or whiskey cocktail. It is also sometimes referred to as the oldest-known American cocktail, dating back to pre-Civil War New Orleans. Sure to be featured at Tales of the Cocktail. Here is the drink recipe:
1 cube sugar
1½ ounces (35ml) Sazerac Rye Whiskey
3 dashes Peychaud's Bitters
Lemon peel
Pack an Old-Fashioned glass with ice. In a second Old-Fashioned glass place the sugar cube and add the Peychaud's Bitters to it, then crush the sugar cube. Add the Sazerac Rye Whiskey to the second glass containing the Peychaud's Bitters and sugar. Empty the ice from the first glass and coat the glass with the Herbsaint, then discard the remaining Herbsaint. Empty the whiskey/bitters/sugar mixture from the second glass into the first glass and garnish with lemon peel.
The Hurricane – A Signature New Orleans Cocktail
The Hurricane is a famous New Orleans drink was first prepared in the one and only Pat O'Brien's. It was intended to be served to sailors passing through – thus the reason for the hurricane-lamp glasses. However, its popularity quickly caught on and has become a mainstay in the French Quarter. Here is the cocktail recipe:
2 oz light rum
2 oz dark rum
2 oz passion fruit juice
1 oz orange juice
Juice of a half a lime
1 Tbsp simple syrup
1 Tbsp grenadine
Orange slice and cherry for garnish
Squeeze juice from half a lime into cocktail shaker over ice. Pour the remaining ingredients into the cocktail shaker. Shake well. Strain into a hurricane glass. Garnish with a cherry and an orange slice.
The French 75 Cocktail Recipe
½ oz. Brandy
½ oz. Fresh Lemon Juice
¼ oz. Simple Syrup
5 oz. Sparkling Wine
Place brandy, fresh lemon juice and simple syrup in a Boston Shaker. Shake until chilled. Strain into a champagne flute and top with sparkling wine. Garnish with a lemon twist.
The Ramos Gin Fizz: A New Orleans Cocktail Invented in the Crescent City
The Ramos Gin Fizz was first made by Henry C. Ramos in 1888 at his bar, the Imperial Cabinet Saloon on Gravier Street in New Orleans. It was very popular before the Prohibition and was made famous by the Roosevelt Hotel in New Orleans. Here is the drink recipe:
1/4 cup (2 ounces) gin
1 dash (3 to 4 drops) orange blossom water*
1 large egg white
1 tablespoon (1/2 ounce) half-and-half
1 tablespoon (1/2 ounce) fresh lemon juice
1 tablespoon (1/2 ounce) fresh lime juice
1 tablespoon (1/2 ounce) simple syrup
1 cup ice cubes
2 tablespoons (1 ounce) seltzer
In large cocktail shaker, combine gin, orange blossom water, egg white, half-and-half, lemon juice, lime juice, and simple syrup. Shake vigorously for 25 seconds. Add ice and shake for 30 seconds more.
Strain mixture into 8-ounce glass. Slowly pour soda water down inside edge of shaker to loosen remaining froth. Gently ease soda water/froth mix onto drink and serve.
The Vieux Carre Cocktail Recipe
½ oz. Benedictine liqueur
½ oz. rye whiskey
½ oz. cognac
½ oz. sweet vermouth
Peychaud's bitters
Angostura bitters
Lemon twist, for garnish
Stir Benedictine liqueur, rye whiskey, cognac, sweet vermouth, 1 dash each Peychaud's and Angostura bitters, and ice in a chilled old-fashioned glass. Garnish with a lemon twist.