New Orleans is a city within a city.
Here are 6 Cemeteries that are part of the city's character.

For some reason, the veil between the living and the deceased seems thinner in New Orleans. Everywhere you turn, it's as if you can almost imagine the people who once lived in the centuries-old houses lining the Lower Garden District neighborhood. And if you're in the French Quarter, don't be surprised if you see a ghostly specter pacing a wrought-iron balcony above. But, if you want to get close to the carefully crafted above-ground tombs and mausoleums, follow our must-see guide and prepare to marvel at New Orleans' artfully arranged burial grounds.

St. Louis Cemetery No. 1
Don't believe in ghosts? You may change your mind after visiting here.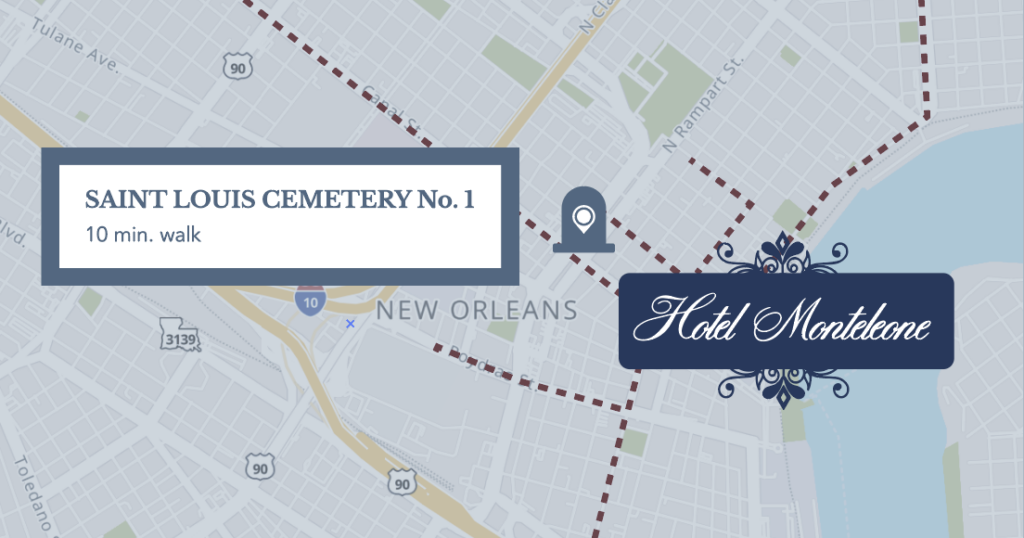 St. Louis Cemetery No. 1 is considered one of the most haunted cemeteries in America. This cemetery takes up an entire city block with over 700 tombs and over 100,000 graves, dating back to 1789. So, who haunts this crumbling cemetery?
The VooDoo Queen herself, Marie Laveau, and Henry Vignes, a soldier whose body can't rest until he's been buried in his family tomb, a tomb that was sold before he returned home from the sea without his knowledge.
St. Louis Cemetery No. 1 is home to noted New Orleanians Etienne de Bore, a pioneer in the sugar industry. Homer Plessy, of the landmark Supreme Court segregation decision Plessy vs. Ferguson, and world-famous chess champion, Paul Morphy.
Cool Trivia: Easy Rider was filmed here, and Cloak & Dagger! If it's been a while since you've seen these flicks, we suggest downloading them for a movie night before your trip. You know, just to prepare.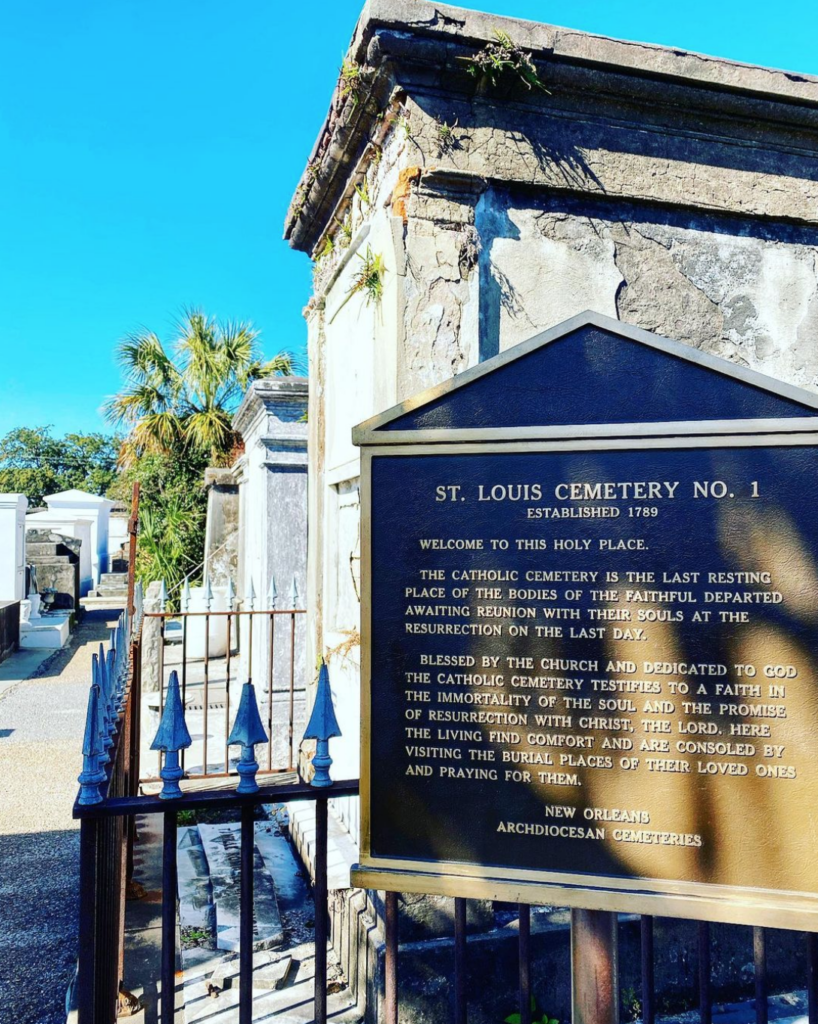 Lafayette Cemetery No. 1
Vampires, witches & ghosts, oh my.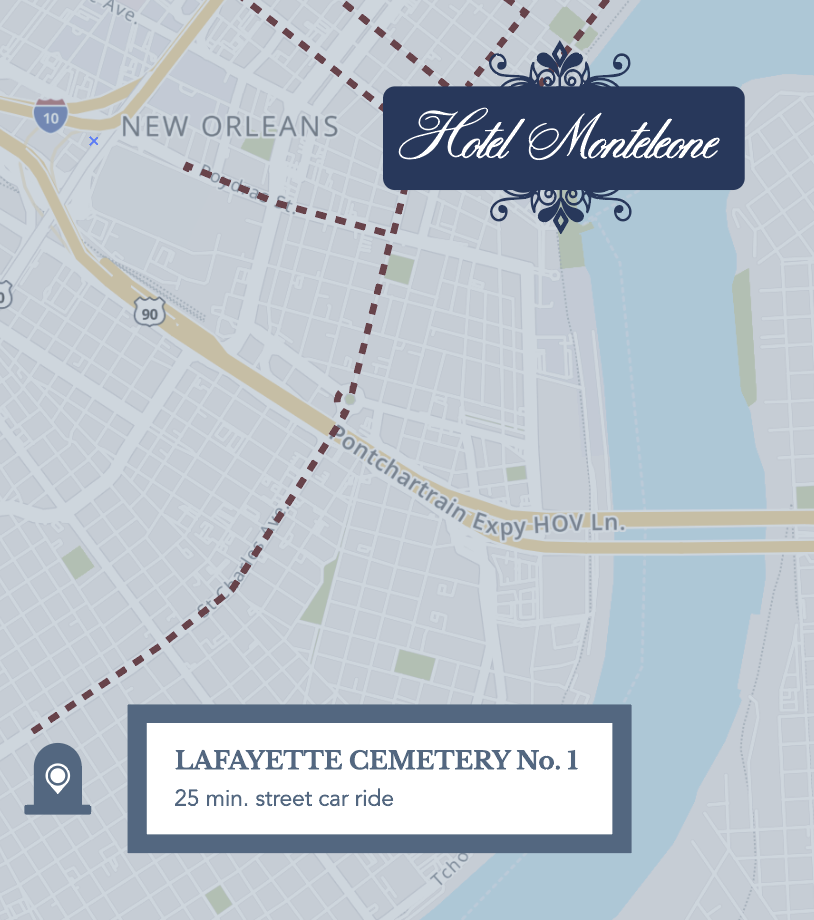 Sheltered by oaks that have seen more than we ever will, Lafayette Cemetery No. 1 is a place unlike any other. It's even been the burial place for a few of Anne Rice's most beloved characters, like the vampire, Lestat, and the Mayfair Witches.
Located on the corner of Washington Avenue and Prytania Street, you can't miss its white walls and the large iron gate that begs you to step inside and explore. Stick to visiting this cemetery during the daylight. After all, you could run into one of the over 7,000 souls that call it home. And many of the occupants haunting this cemetery died during the New Orleans plague of Yellow Fever back in 1817.  
Cool Trivia: Many of Anne Rice's novels were set in New Orleans and mention this cemetery. Double Jeopardy was filmed here, and several scenes from the CW show, The Originals, too. In addition, Into the Badlands was originally shot here before filming moved to Ireland.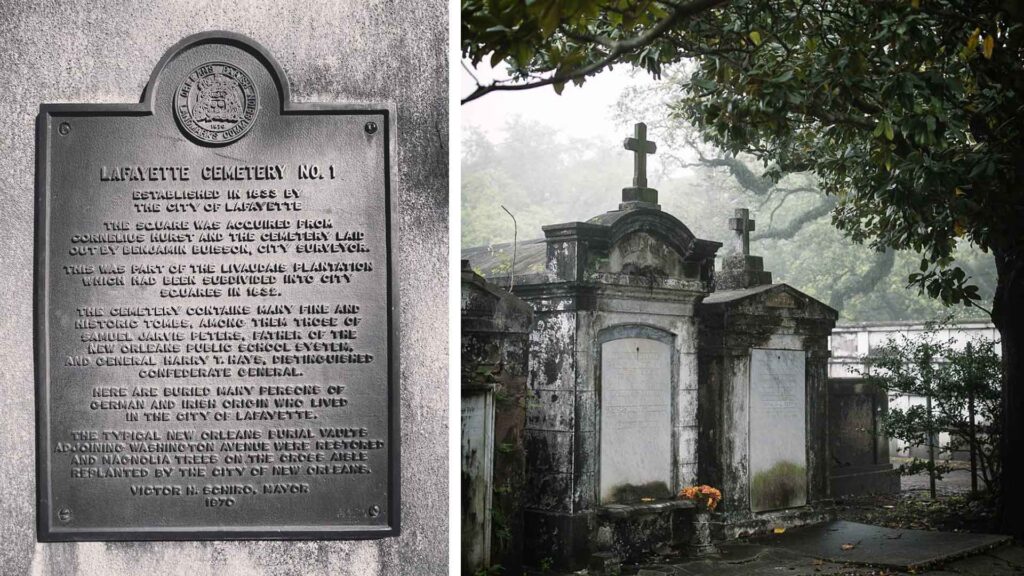 Saint Roch Cemetery
New Orleans' secret cemetery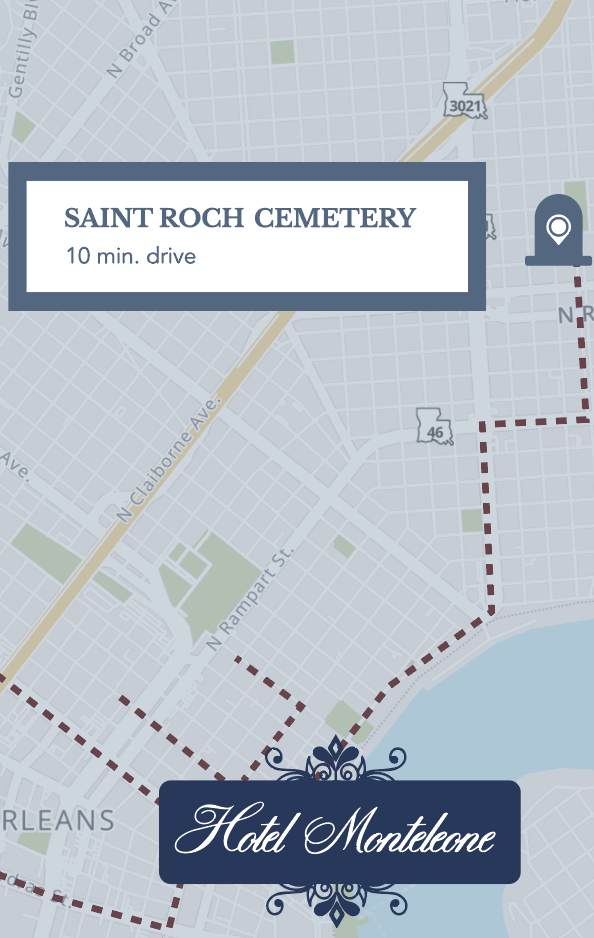 This cemetery is the least visited cemetery in all of New Orleans, making it the perfect home for spirits looking for peace and quiet.
Founded by Reverend P.L. Thevis in 1874 during the New Orleans' Yellow Fever outbreak, it was named St. Roch, after the patron saint of protection from epidemics. Apparently, the reverend and his congregation prayed to St. Roche for protection from Yellow Fever, and none of them contracted it.
Considering it a miracle, they named the cemetery after St. Roch and built a chapel located inside it. The most well-known ghost story in St. Roch cemetery is of an unusually large black dog seen wandering the ground. Yet, just when it's cornered by visitors, the dog vanishes as if it was never there.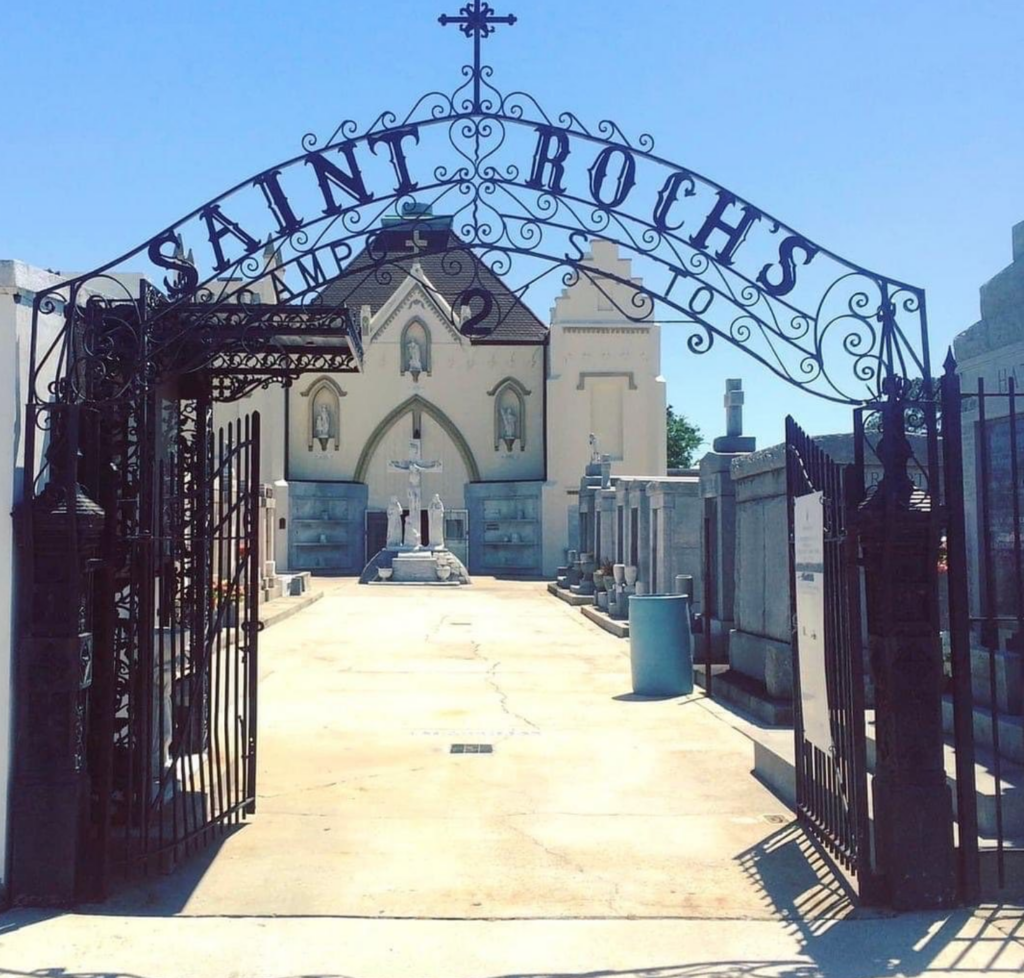 If you move them, they won't come; they'll curse you.

This was once an integrated cemetery that was a site to see with multi-tiered tombs. By 1957, the decision was made to move the remains to different area cemeteries and segregate them.
To this day, many local New Orleanians believe that the Dome is cursed, which is why it took so long for the Saints to win a Super Bowl. Some locals even blame the curse on all the devastation that happened in the Super Dome during Katrina.
If you want to explore where the old Girod Street Cemetery was located, head to the Super Dome and if you're into the spirit realm, leave an offering of flowers. Who knows? It may help us win the Super Bowl again.  
He wanted a pool. He got a cemetery.
In 2011, Vincent Marcello decided it was time to build a pool in his French Quarter home. After all, summers are hot here. Well, little did he know that where he was digging, he'd find 15 coffins filled with remains along with the forgotten Saint Peter's Street Cemetery.

The dead eat well here.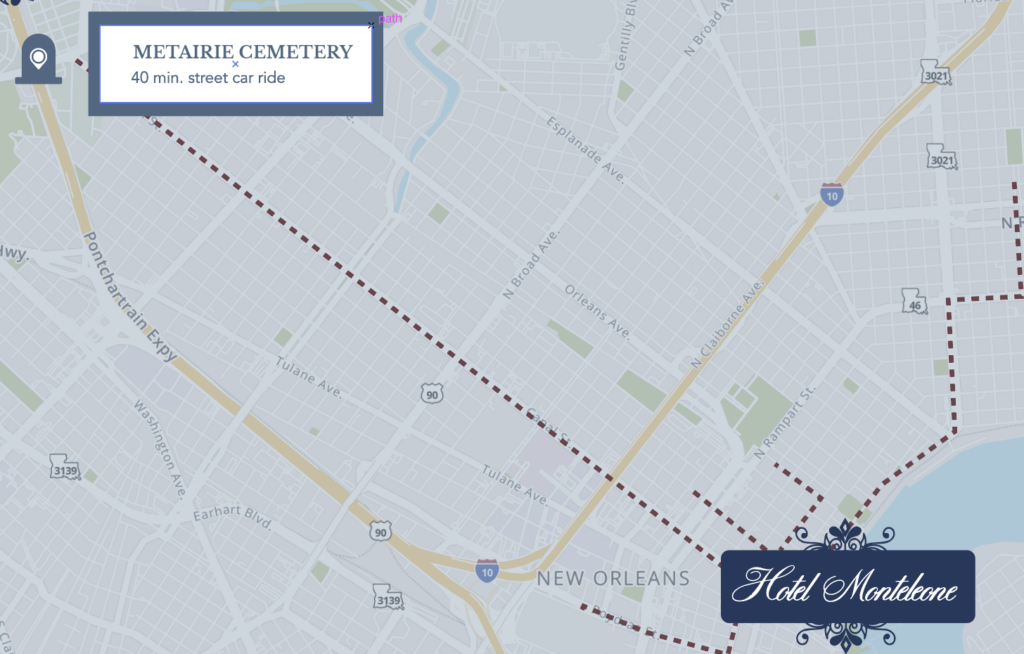 If you love looking at fantastic sculptures and unique moments for those no longer walking the earth, this cemetery includes a pyramid-shaped vault and the Weeping Angel statue in the Hyams family tomb. This cemetery was for the more wealthy and renowned New Orleanians of our fair city. For example, Louis Prima, Al Hirt, and Al Copeland, creators of Popeyes' Fried Chicken, and the founding owners of Antoine's, Galatoire's, Brennan's, and Arnaud's are buried here.
So, don't be surprised if while you're taking selfies by some of the most incredible tombs, you smell something delicious cookin'. Legend has it that if the wind blows just right, you can almost smell bananas foster banking or chargrilled oysters smoking on a grill. Of course, it could be from one of the restaurants nearby, but we think otherwise.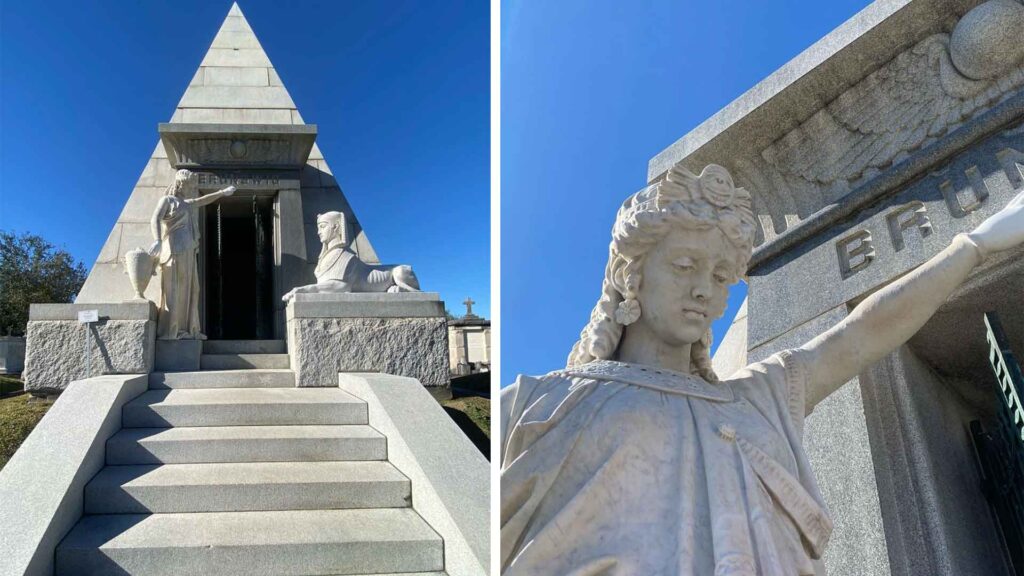 Explore these beautiful NOLA cemeteries while you stay at Hotel Monteleone.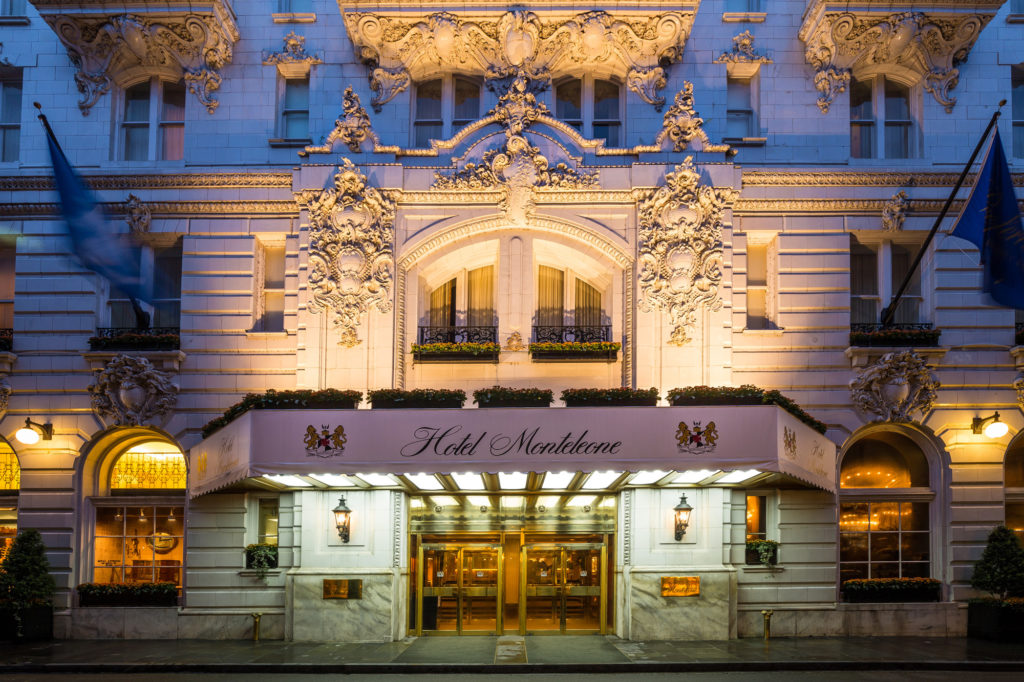 No matter which cemetery explore, there is one choice that is clear: there is no more historic or centrally located hotel to start and end your day in New Orleans than at Hotel Monteleone.
Book your next trip to New Orleans today and discover all the historical attractions that NOLA has to offer!