In New Orleans, May

 is in full bloom, and so are the balconies in the French Quarter. 



This makes Memorial Day Weekend the perfect time to get swept up in the magic and music that flows from every open door and courtyard. If you're thinking about packing your bags and getting out of town for Memorial Day, come visit us here in the Big Easy. Let these tips be your cheat sheet for an amazing 3-day weekend you'll want to repeat every year.  

Connect with New Orleans history.
Step back in time as you explore all that the National World War II Museum has to offer. Listen to real stories from the front and at home. When you're done, grab a quick bite to eat at the museum's BB's Stage Door Canteen. If you're in the mood for some 40's tunes, let the Victory Belle's Matinee Lunch serenade you with all the vintage hits, in perfect harmony. It'll knock your bobby socks off. Trust us.

THIS MEMORIAL DAY WEEKEND:
March 17 – September 24 | Walt Disney Studios and World War II
Buy Tickets

Photo by @wwiimuseum

There's no better way to learn about local New Orleans history than aboard the stately Creole Queen Paddlewheeler. Sip a perfectly crafted cocktail in the river breeze while the boat's historian guides you through some of the most notable history set right here in the Crescent City. Learn about the LeMoyne brothers, the Louisiana Purchase, and the Battle of New Orleans as you glide right down to the very site of the battle, the Chalmette Battlefield.

Buy Tickets

Photo by @creolequeennola

See some live, local talent.
The Howlin' Wolf has been a New Orleans music institution since 1998. Their lineup is never-miss, so no matter what day you head to this CBD gem, you're sure to hear some fabulous tunes that will get you groovin'. It's also within walking distance of some truly scrumptious restaurants like Criollo Restaurant, Cochon and Peche.

THIS MEMORIAL DAY WEEKEND:  
May 28th, 2023 | Hear the Grammy-winning Hot 8 Brass Band.
Buy Tickets

Photo by @hot8brassband

Le Petite Theatre is one of the oldest New Orleans theatres in operation today. This venue opened its doors in 1916, moved locations in 1922, and has been entertaining audiences in New Orleans ever since. Before going to see a there, make a reservation at Criollo. The food is divine, and if you stay at Hotel Monteleone, also hit one of the coolest bars in the world, The Carousel Bar, for a quick cocktail before your pedicab arrives to whisk you away to the theater.

THIS MEMORIAL DAY WEEKEND:  
May 18th – June 4th |  The Curious Incident of the Dog in the Night
Buy Tickets

Photo by @lepetit_nola

If you're feeling a bit flirty, make your way to The AllWays Lounge & Cabaret, where fun rules. This entertainment venue offers live burlesque shows and local music almost every night. Not to mention, their drinks are spot-on.  For an extra special evening, spend some time pampering at Spa Aria before your big night out.

THIS MEMORIAL DAY WEEKEND:  
May 27th | Kapow! Burlesque
Buy Tickets

May 28th | Swing Night – Free Lessons
Buy Tickets

Photo by @bsilverio20

Dine al fresco.
Dig into some BBQ

While New Orleans may not be the first place you think of when you think barbecue, we can hold our own. All of these award-winning favorites have lively patio space perfect for Memorial Day Weekend weather. 

Central City BBQ tops this list with some of the most well respected barbecue in the city. You can find all the favorites from pork belly to brisket to smoked chicken, with some Louisiana flavor showing up in the smoked boudin and sweet corn spoonbread.


Photo by @centralcitybbq_

Blue Oak BBQ is a Mid-City staple, slinging smoky barbecue goodness every day of the week. Enjoy their colorful outdoor space during happy hour, when they offer deals on bites like meat-of-the-day nachos and smoked wings, and rotating frozen cocktails.


Photo by @mareatsalot

 

The Joint, 

t

h

e "always smokin

" long-time Bywater favorite,

 embodies

th

e

classic

nonchalant 

charm

the city is known for.

Th

is

unassuming eatery

will certainly end up on your favorites list.

Take your pick of

saucy meats

and down-home sides, just don't forget to save room for

pie.


Photo by @thejointbbq

 Crawfish picnic like the locals

New Orleans is known for its bustling streets and tree-lined avenues, but tucked back away from that are some truly stunning green spaces. During Memorial Day Weekend, catch the tail end of crawfish season with takeout from one of these beloved boilers, and spend a quiet moment together on a family picnic.

Crescent Park

in the Marigny/Bywater hugs the riverfront, so you can take your pick of wonderful views at sunset. Stop by 

Pier 424

on the way for some hot, ready-to-eat crawfish.


Photo by @gdouglasadamsrealtor

 

The Fly

in Audubon Park is a great place to catch an altogether different view of the Mississippi. This Uptown park offers a river-side grassy space with a laid-back atmosphere.

Frankie and Johnny's

is just a hop, skip, and a jump away, slinging some of the tastiest mudbugs in the area. Make it a day trip and visit the

Audubon Zoo

right next door.


Photo by @everydayselections

 

City Park

in Mid-City has 1,300 acres of lush space and amenities awaiting you. You can find everything from the

New Orleans Museum of Art

and the

Carousel Gardens Amusement Park

, to

mini golf

and a

paddle boat

adventure. The crawfish pick here is

Clesi's Seafood

, a local favorite, just a 15 minute walk south of the park.


Photo by @fortheloveofneworleans

 

Greek Fest


New Orleans Greek Festival takes place every Memorial Day Weekend along Bayou Saint John in the Gentilly neighborhood. Along with live music, you can find a seemingly endless buffet of traditional Greek cuisine. Whether you're looking for a taste of baklava or gyro, you're sure to find it here.

Photo by @amournola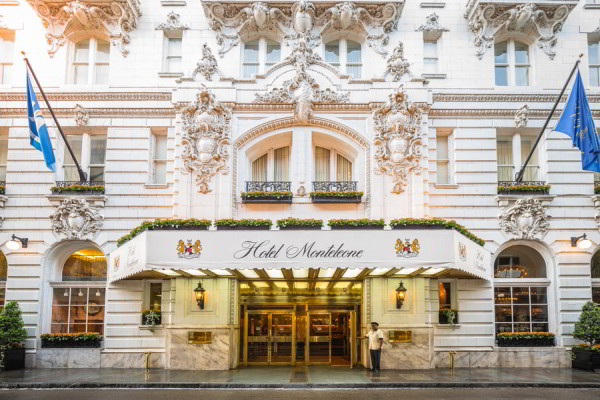 Want more tips on things to do in New Orleans during Memorial Day Weekend? Ask any of our friendly Hotel Monteleone staff. They have their finger on the pulse of everything happening in New Orleans. 
Book your next trip to New Orleans today and discover all the attractions that New Orleans has to offer.