The countdown to Mardi Gras in New Orleans is well underway! As you plan for parades and mark the days until Fat Tuesday, learn about some of the most famous Mardi Gras traditions and where they came from.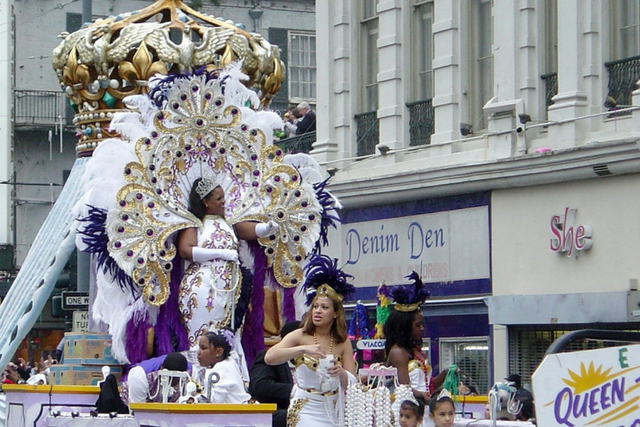 1. Mardi Gras Krewes
A Krewe is an organization that works all year to plan out the balls and parades for Mardi Gras. It's no easy task to join one of these krewes, as many are secret societies.
Mardi Gras Krewes date all the way back to the mid-nineteenth century when the first parades started rolling the streets of the Big Easy. In 1857, The Mistick Krewe of Comus was the first secret society to host a parade. Now many different parade krewes exist, and often times a krewe will feature a celebrity rider as the king or queen of the parade that year.
Some krewes are more exclusive than others, and while plenty of krewes host the iconic Mardi Gras parades with floats, there are also many marching krewes. One of the most well-known of these is the Society of Saint Anne which has been walking the streets of the Marigny and French Quarter on Fat Tuesday since 1969.
2. Mardi Gras Balls
Every year, each Mardi Gras Krewe prepares a lavish ball to take place during the Carnival season. The balls date back to the 1800s and were very private affairs. While today some hold invitation-only balls, many are now ticketed events open to the public.
3. Mardi Gras Beads & Throws
Probably one of the most well-known Mardi Gras traditions. The beads, or "throws" as we call them, have been passed out since the 1920s when Rex and a few other krewes began handing out tiny trinkets to the parade followers.
The original Mardi Gras beads were made from glass. Occasionally, if you're lucky, you can still catch a krewe throwing one of these vintage beads.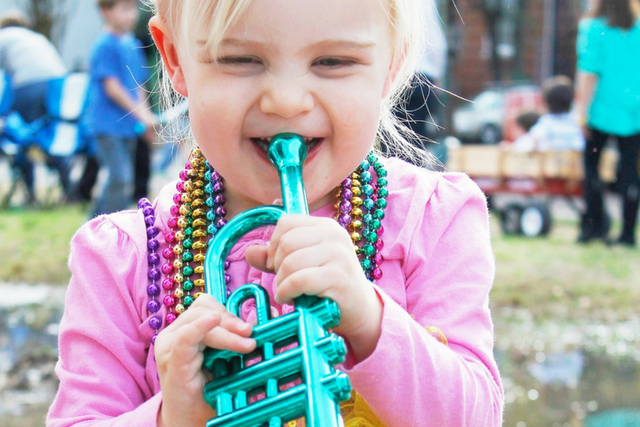 Today, doubloons, cups, toys, and MoonPies are all popular throws. Some krewes have a coveted signature throw, which is typically handcrafted by krewe members. Some of the most prized catches of Carnival include glittering shoes from the Krewe of Muses, bedazzled purses from the Mystic Krewe of Nyx, and yes, even sparkling coconuts from the Zulu Social Aid and Pleasure Club.
4. King Cake
By far the most delicious of New Orleans' Mardi Gras traditions is the King Cake. Between Twelfth Night and Fat Tuesday, you can find king cakes lining the walls of local grocery stores.
Traditionally, a New Orleans king cake is an oval-shaped coffee cake, braided and covered in icing and sugar the color of Mardi Gras: purple, green and gold. A small plastic baby accompanies each king cake (Due to choking hazards, most king cakes now come with the baby on the outside, allowing the buyer to place it inside of the cake). King cake custom demands that whoever cuts the slice of cake that has the baby in it is king for the day — and also has to purchase the next king cake.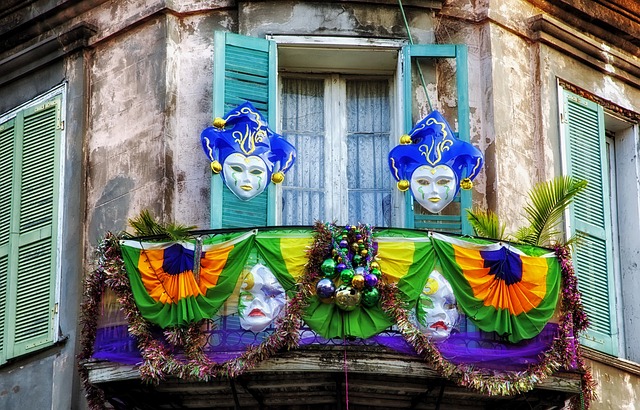 5. Mardi Gras Colors
The traditional (and official) colors of Carnival are purple, green and gold. The colors were selected by Rex in 1872 to honor the visiting Russian Grand Duke Alexis Alexis Alexandrovich Romanoff, whose house colors were purple, green and gold. These royal colors are each symbolic: purple stands for justice, gold for power and green for faith.
6. Mardi Gras Masks & Costumes
By law, all float riders must wear a mask while parading. On Fat Tuesday, masking is legal for everyone else, and many people don elaborate costumes, wigs, or masks to celebrate.
If you want to join in the fun, stop by Fifi Mahony's a few blocks from our hotel to pick up an extravagant wig or visit Southern Costume Company's downtown location.
If you'd rather watch than dress up, the annual Bourbon Street Awards show features a bevy of over-the-top costumes. The contest starts at noon on Fat Tuesday at the corner of St. Ann and Dauphine Streets.
7. Parade Floats & Flambeauxs
At the center of the Mardi Gras celebration is the parade float. Today, Mardi Gras floats come in large sizes and are outfitted with elaborate decorations, including larger-than-life papier-mache sculptures (called props), ornate hand-painted flowers, and flashing LED lights.
Many "Super Krewes" have a signature float that rolls every Mardi Gras season. These signature structures tend to consist of multiple double-decker floats attached to one another to create a train-like look.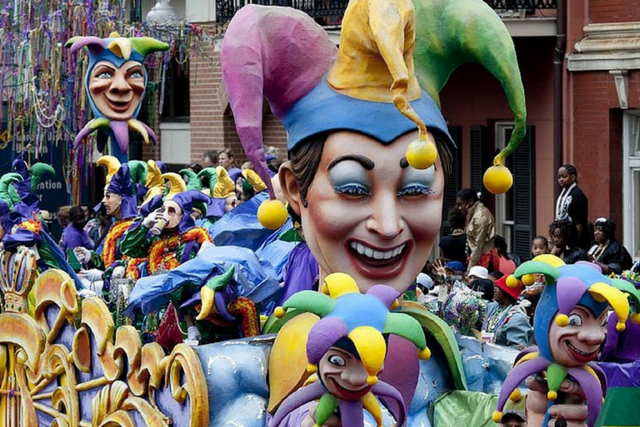 These floats haven't always been this intricate, though. The first floats appeared in the mid-1800s as decorated horse-drawn carriages and wagons. These carriages were accompanied by young men who carried torches to light the way for the route. These men are called "Flambeauxs," and they continue to light the way for Mardi Gras' nighttime parades.
Stay with Hotel Monteleone for Mardi Gras in New Orleans
Have you booked your trip to the biggest party in the world? Don't miss out on your chance to experience a party like no other, and learn the traditions of New Orleans' Carnival celebration that date back to 1857.
Join us in New Orleans to experience these Mardi Gras traditions and many more. It's a trip you truly will never forget, so book your room in the French Quarter's favorite hotel to ensure you are getting the complete New Orleans treatment!