Looking for a pet-friendly New Orleans hotel? You've come to the right place. We welcome every member of the family at Hotel Monteleone.
From dog-friendly bars to the annual Barkus Mardi Gras parade, New Orleans is without a doubt a pet-friendly city. And our historic French Quarter hotel is pleased to offer pet packages to pamper your favorite four-legged friends.
As a pet-friendly hotel, Hotel Monteleone allows guests to bring their entire family to stay, pets included!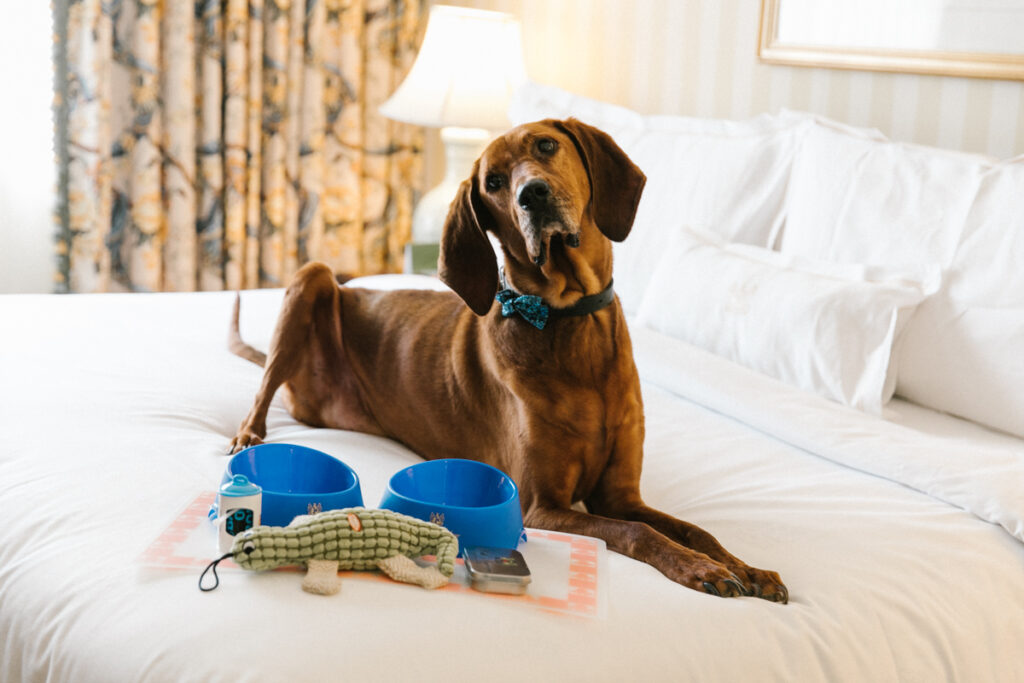 Pet-Friendly Perks at Hotel Monteleone
When you and your furry friends check in at Hotel Monteleone, you will receive a special treat – Monte's Pet Package. This includes a mat for your pooch to rest its bones on, monogrammed water and food bowls, and a chew toy. It also features a bag of gourmet treats, waste bags, and a brochure of pet-friendly attractions in the city. Guests are free to take these gifts home with them after their stay.
Want to treat your pet to a luxurious dinner? Hotel Monteleone is pleased to offer a special in-kennel dining menu with options for both dogs and cats. It's the perfect way to give your pet an above-and-beyond vacation at our timeless French Quarter hotel.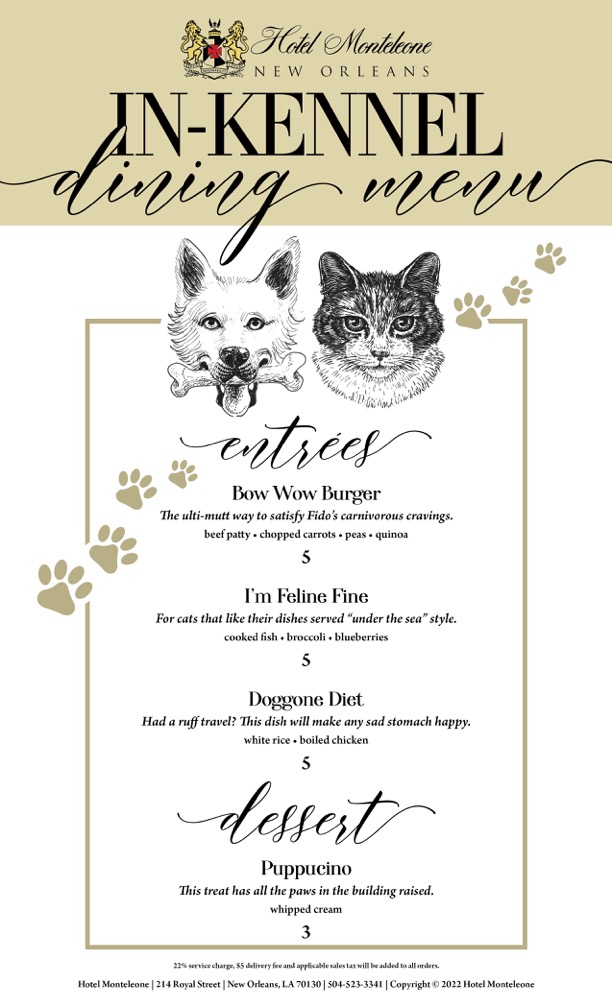 Hotel Monteleone also has pet-friendly floors, allowing your pup or feline to mix and mingle with other visiting pets. Now you can save yourself the hassle of finding a pet sitter or booking a kennel during your next vacation in New Orleans!
The Hotel Monteleone prides itself on offering exceptional service to all of our guests, including pets. We want everyone who stays with us to feel welcome and experience everything that New Orleans has to offer.
Everything You and Your Pet Need for a Perfect Getaway
With so much excitement within walking distance of our historic hotel, Hotel Monteleone is an ideal choice for you and your pet. There's so much to do and see, and you can experience it all when you stay in the heart of the French Quarter.
Our Pet Friendly Policy is a $100 non-refundable fee and $25 per night charge. If you have any further questions regarding our policies, please feel free to contact us for more pet information.