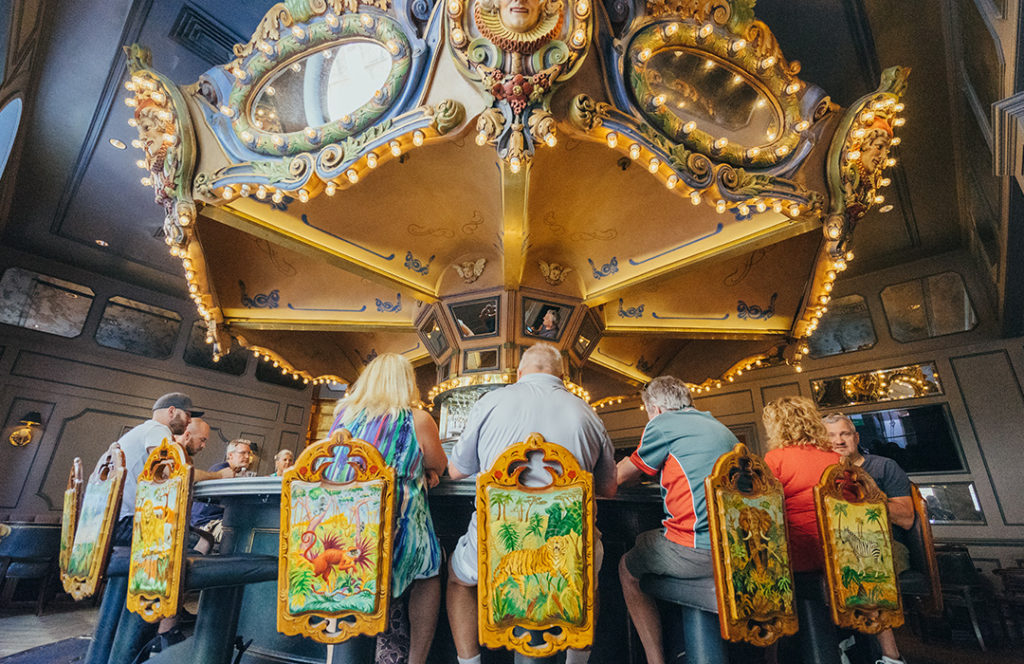 The Carousel Bar is truly a one-of-a-kind attraction. It's seen seven decades, served countless cocktails, and is the only carousel you have to be 21 to ride.
It's an iconic, world-renowned destination – and it's still spinning after 70 years.
Still not convinced on our must-see hotel bar? Here's 7 reasons why a visit to the Carousel Bar & Lounge deserves a spot on your vacation itinerary!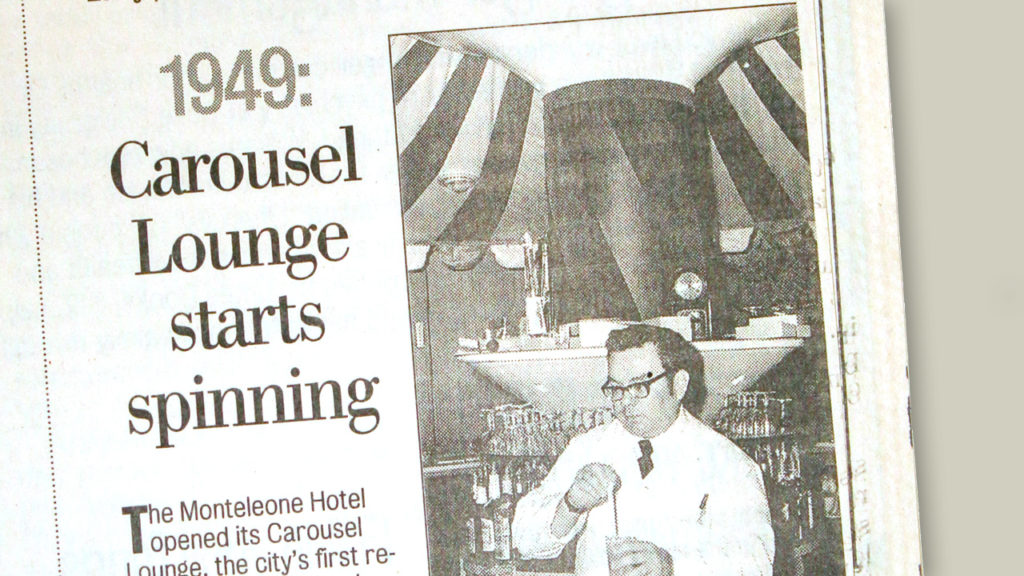 It's New Orleans' First and Only Rotating Bar
The Carousel Bar has served New Orleans' young-at-heart ever since it opened for business on September 3, 1949 inside the historic Hotel Monteleone.
The bar's design is like no other attraction. 25 seats take guests on a Merry-Go-Round ride underneath a colorful marquee.
Every 15 minutes it makes a leisurely orbit around the Carousel's world-class bartenders, adding a dash of whimsical charm to every sip of your cocktail.
Its Star-Studded History
In the early days, the Carousel Bar operated alongside the Swan Room, a nightclub known for its famous entertainment.
Stars like Liberace, Ronnie Kole, and the jazz pioneer Louis Prima made the Carousel Bar a cultural hub of the day's great talents.
The stage played host to legendary performances, and a seat at the Carousel Bar became a favorite spot for the biggest names in music.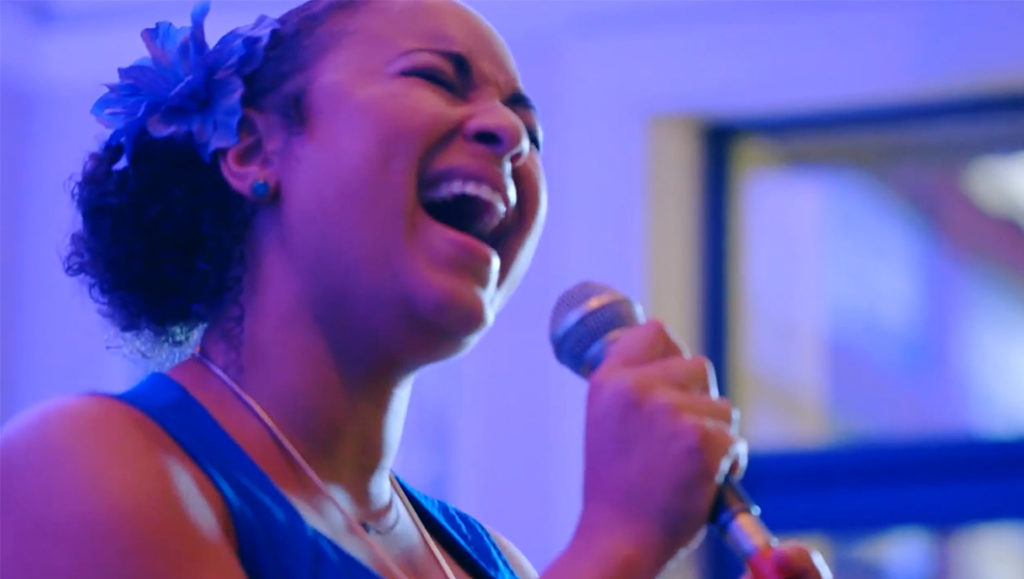 Its Ongoing Musical Legacy
Music continues to be an essential ingredient in the Carousel Bar's appeal. New Orleans jazz lives and thrives onstage, inviting locals and visitors alike to enjoy an evening of incredible music.
With nightly performances from Robin Barnes, Nayo Jones, and Lena Prima, the daughter of Louis Prima, every evening is always a special event at the Carousel Bar.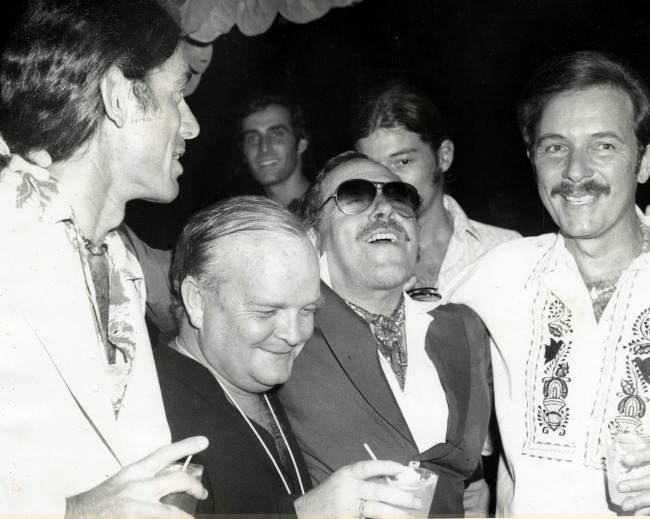 Its Iconic Status as a Literary Landmark
Some of the greatest literary minds have found inspiration at the Carousel Bar.
The bar gas played host to countless novelists and storytellers in its seven-decade history. And its whimsical character has made an appearance in dozens of stories.
The playwright Tennessee Williams was a regular guest, as was Truman Capote, who lovingly claimed he was born in the Hotel Monteleone. And authors like Ernest Hemingway, Eudora Welty, and William Faulkner wove the bar into their work.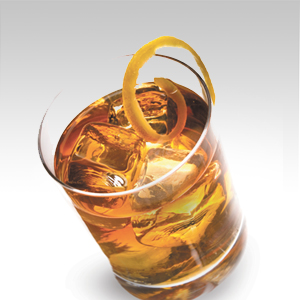 Its Signature New Orleans Cocktail
Along with its eye-catching character, visionary cocktails have played a leading role in the Carousel Bar's history.
Our most famous cocktail, the Vieux Carré, is a tribute to New Orleans' French Quarter. It was invented in 1938 by Hotel Monteleone's head bartender, Walter Bergeron.
After falling out of style for some years, the cocktail was revitalized and added once more to the Hotel Monteleone menu. It made a huge comeback and is now world-renowned as an iconic New Orleans drink.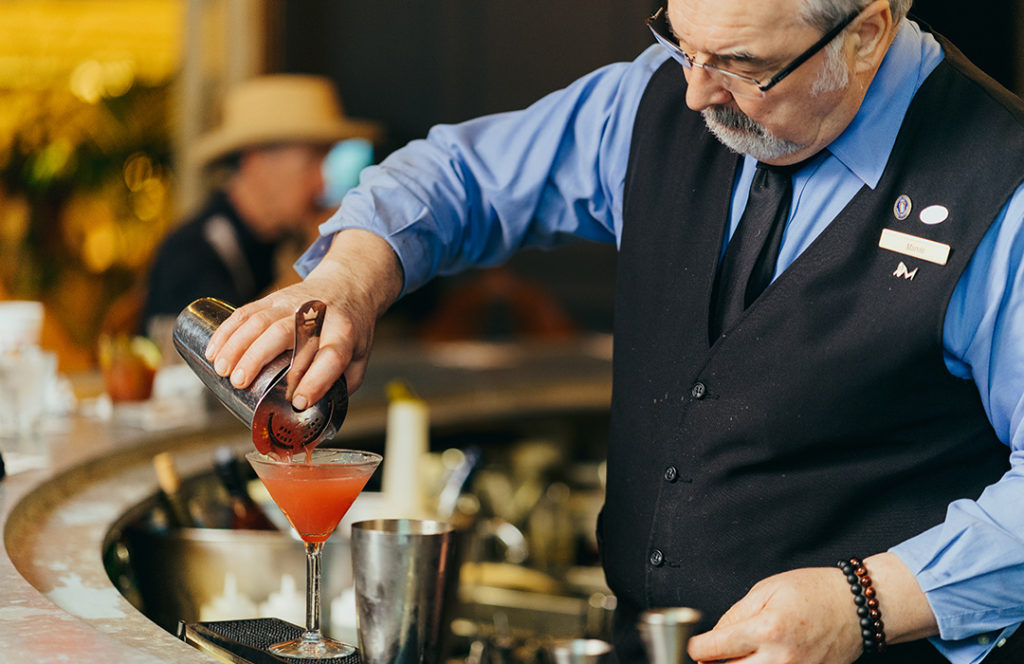 Marvin's Stories and Expert Talents
Like the cocktails he expertly crafts, Marvin Allen has a mix of talents. He is the Carousel Bar's head mixologist, resident historian, and a beloved member of the Hotel Monteleone family.
He started his tenure behind the Carousel Bar in 2002. And ever since, he's played an instrumental role in New Orleans' cocktail culture. He helped revive the Vieux Carré cocktail, helped Tales of the Cocktail take shape, and authored "Magic in a Shaker: A Year of Spirited Libations."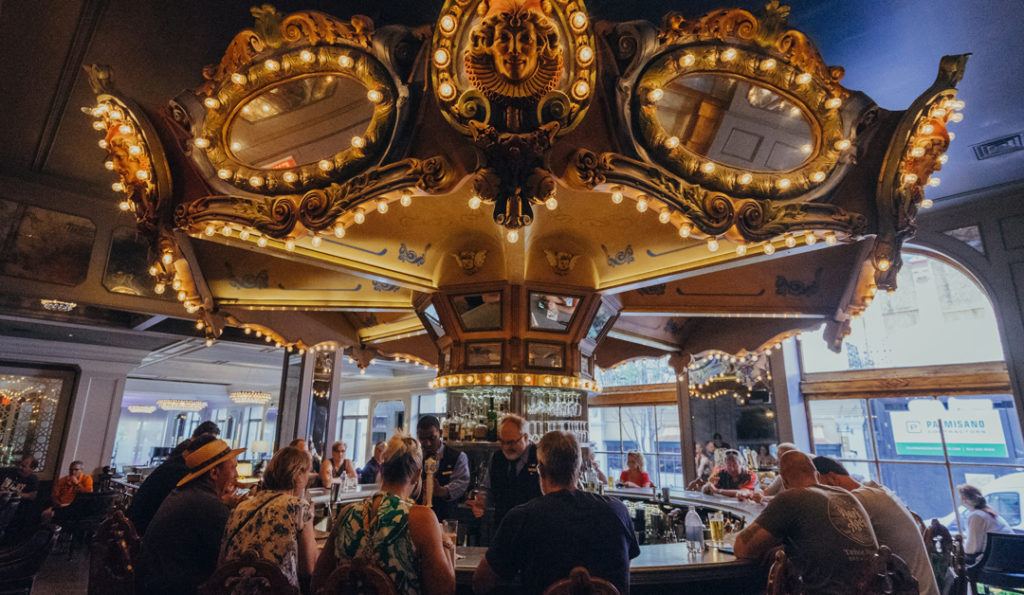 Your Own Story Starts with a Spin
With decades of history, excitement, and charm, the Carousel Bar is so much more than a spot on the map. It's where your New Orleans story begins.
Your drink at the bar could seat you next to well-known guests. Your first sip could start the next cocktail craze. A friendly chat could spark your next creative masterpiece.
The Carousel Bar is the home of New Orleans' adventurous spirit. And 70 years later, it's still enjoying the ride!
Experience the Carousel Bar's Magic at Hotel Monteleone
When you book your stay at Hotel Monteleone, you're steps away from this iconic French Quarter landmark.
Plan your New Orleans getaway today and experience the Carousel Bar's one-of-a-kind charm located right inside our door!