Want to make your mother feel special this Mother's Day weekend? Treat her to a delicious Mother's Day lunch in New Orleans at Criollo Restaurant, followed by an indulgent spa day at Spa Aria!
Create new memories with your family in the heart of the Big Easy at Hotel Monteleone.
Mother's Day Lunch at Criollo Restaurant
Criollo is the perfect destination for Mother's Day, where you can treat mom to our delicious lunch menu items from 11:30am-2:30pm. This year, Criollo will be offering a prix fixe Mother's Day menu for $42 per person.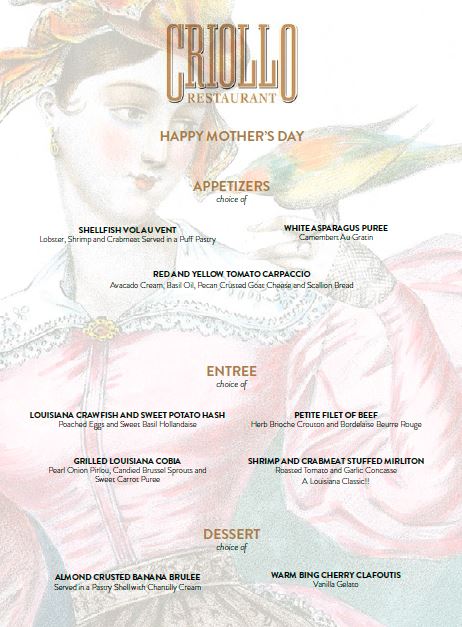 Your choice of appetizers:
Shellfish Vol Au Vent with Lobster, Shrimp and Crabmeat Served in a Puff Pastry
White Asparagus Puree with Camembert Au Gratin
Red and Yellow Tomato Carpaccio with Avocado Cream, Basil Oil, Pecan Crusted Goat Cheese and Scallion Bread
Your choice of entree:
Louisiana Crawfish and Sweet Potato Hash with Poached Eggs and Sweet Basil Hollandaise
Petite Filet of Beef with Herb Brioche Crouton and Bordelaise Beurre Rouge
Grilled Louisiana Cobia with Pearl Onion Pirlou, Candied Brussel Sprouts and Sweet Carrot Puree
Shrimp and Crabmeat Stuffed Mirliton with Roasted Tomato and Garlic Concasse
Your choice of dessert:
Almond Crusted Banana Brulee served in a Pastry Shell with Chantilly Cream
Warm Bing Cherry Clafoutis with Vanilla Gelato
Take a peek at some of our other favorite lunch menu items:
Seafood-loving moms will love our Grilled Shrimp and Scallops with white truffle risotto and red onion marmalade. The Grilled Faroe Island Salmon with lentils, shallot confit and grilled asparagus is another fan favorite.
If mom is the carnivorous type, treat her to our Hot Pulled Pork Sandwich, dressed with marinated red cabbage and onions, toasted onion roll and horseradish caraway sauce, or our Grilled Balsamic Marinated Hanger Steak, which is served with radish, pecans, teardrop tomatoes, and our Point Reyes blue cheese vinaigrette.
Criollo caters to vegetarians as well, with options like a hearty Vegetarian Portobello Burger and a mouth-watering Margarita Flatbread, featuring fresh mozzarella, locally-grown tomato, sun-dried tomato pesto and balsamic.
View the full Criollo lunch menu here.
Need to make an early day of it? Criollo also offers a decadent breakfast menu from 6:30am-11:00am:
Treat Mom To A Spa Day At Spa Aria
After lunch, treat mom to a relaxing spa day at Spa Aria, our very own day spa located on the Mezzanine Level of Hotel Monteleone.
Choose from a variety of indulgent spa packages, like The Full Monty, a 3 1/2 hour ultimate spa package featuring a manicure, pedicure, custom facial, and full body massage or reflexology.
Spending a few extra days in town? Mom will also love Spa Aria's new Summer Special Package, which includes an Aria Manicure and Aria Ultimate Pedicure. It is available Monday – Thursday only and offers special summer savings. Advance reservations are required at Spa Aria by calling 504-523-9990.
If your family has little ones, let mom get pampered for a few hours while you keep the kids occupied at one of many nearby family-friendly attractions. Hotel Monteleone is within walking distance of the Audubon Aquarium of the Americas and Audubon Butterfly Garden and Insectarium.
Enjoy Mother' Day Lunch at Criollo Restaurant New Orleans
Join Criollo Restaurant for a Mother's Day lunch in New Orleans you won't soon forget! Make a reservation at Criollo Restaurant online, or call at (504) 681-4444.