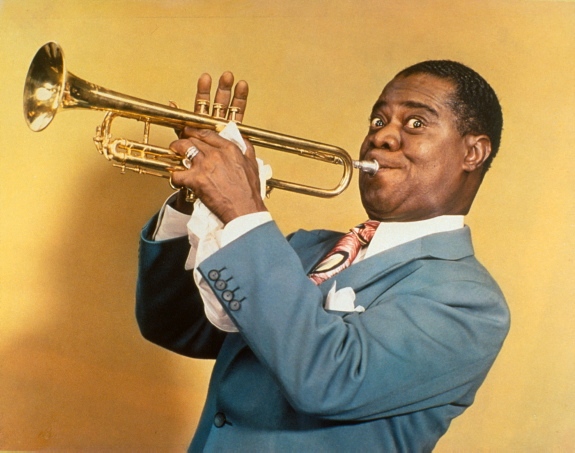 New Orleans has its fair share of connections with the famous and influential. From William Faulkner and Tennessee Williams to Harry Connick Jr. and Ellen Degeneres, many celebrities have NOLA roots in one way or another (and some of them have roots that intertwine with our very own hotel). But New Orleans' most famous native son is undoubtedly Louis Armstrong, the iconic musician, actor, and lasting cultural icon who was born and raised in New Orleans. So is it any surprise we have a whole festival dedicated to Louis, aka Satchmo?
Satchmo SummerFest takes place in early August each summer, coinciding with Armstrong's birthday. This year's festivities take place August 4-6, 2017, with plenty of events going on near our French Quarter hotel.
Live Jazz Music
Of course, at a festival dedicated to Louis Armstrong, the music has to take center stage. Three stages, as a matter of fact. The focus of the event is on local brass bands and jazz performers, specializing in both contemporary and traditional New Orleans music. Look for local favorites like Ellis Marsalis, Charmaine Neville, Kermit Ruffins & the Barbecue Swingers, Treme Brass Band, Shamarr Allen and the Underdawgs, Meschiya Lake and the Little Big Horns, Hot 8 Brass Band, and our very own Robin Barnes, who also performs weekly in the Carousel Bar & Lounge.
There's also an educational component: you can learn to swing dance for free with lessons at the Back o' Town Stage, three times daily on Saturday and Sunday.
Enjoy New Orleans Food
Chow down on a variety of options that showcase the best of New Orleans festival food, including vegetarian and gluten free options. Southern favorites like catfish po-boys, red beans and rice, and Creole jambalaya will be served, as well as daiquiris and snowballs.
Special Exhibits
If you're craving a little history to go with your music and food, you can check out several special events happening in tandem with the festival. The New Orleans Jazz Museum on the third floor of the Old U.S. Mint hosts the Satchmo Symposium which features lectures and video presentations on the life and times of Armstrong as well as some of his musical collaborators.
If you're visiting New Orleans with the whole family for Satchmo SummerFest, you'll feel right at home at Pops' Playhouse. The event within an event features two days of fun kid-friendly activities inside the air-conditioned New Orleans Jazz Museum at the Mint.
Finally, you won't want to miss the annual Jazz Mass and 'Satchmo Salute' Second Line Parade which follows the mass.
Getting There
The three stages of music, food, and special events are all based at the New Orleans Jazz Museum at the Mint, which is adjacent to the French Market on Decatur Street. It's a quick walk from our hotel past scenic spots like Jackson Square. Daily admission to the festival is just $5 (children 12 and under are free). Attendees will be provided wristbands, so that they will have the option of coming and going throughout each day.
Don't miss out! Take advantage of our special summer rates and book your room today!